Team Spirit through to Thunderpick World Championship 2023 playoffs; M80 – outsiders
Group C second playday at Thunderpick World Championship 2023 has ended with Team Spirit and Complexity securing victories. In the match for the playoff ticket from first place, the Dragons bested MOUZ (16:14 on Ancient and 13:6 on Mirage), while North American team defeated M80 in the knockout match (13:8 on Overpass and 13:6 on Vertigo).
At the same time, Group D openers took place. Heroic got the best of Nouns (13:5 on Nuke, 11:13 on Mirage and 13:4 on Vertigo), while BIG took over FURIA (13:11 on Nuke and 13:6 on Ancient).
Tomorrow, October 31, the last group stage matches will play out. The playday will kick off with Group D matches between Nouns – FURIA (10:00 CET) and Heroic – BIG (13:00 CET): the winner of the former and the loser of the latter will also face off at 19:00 CET for the last spot in the playoffs. At 16:00 CET, Complexity and MOUZ will determine the second participant of the decisive stage of the tournament from Group C.
The current group stage standings: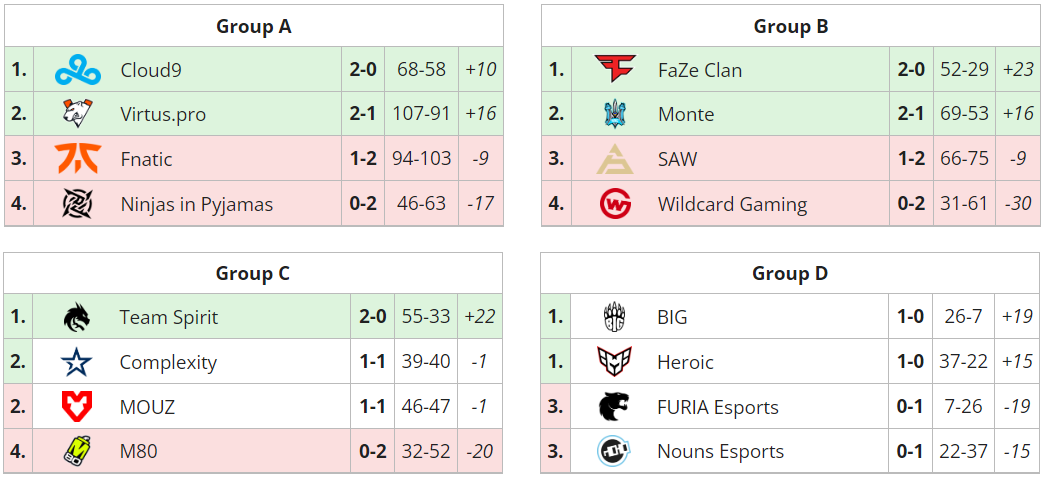 The full schedule, up-to-date results and live broadcast of Thunderpick World Championship 2023 are available on the event's page on our website via this link.