Ax1Le ranks 4th in HLTV.org's Top 20 players of 2022
HLTV.org has put the Russian esports athlete Sergey "Ax1Le" Rykhtorov in the fourth spot in their ranking of the best players in the world in 2022. He spent most of the year under the auspices of the Cloud9 organization, which signed the ex-Gambit roster in April.
Rykhtorov's biggest achievement last year was the victory at IEM Dallas 2022. His individual contribution to Cloud9's success earned him one MVP medal and three EVPs, which are awarded to exceptionally valuable players of big events.
Ax1Le ended 2022 with an average rating of 1.21. Among other things, he emerged as the pro scene's leader in terms of the average rating in matches against top-five and top-ten teams in the world – 1.29 and 1.24, respectively.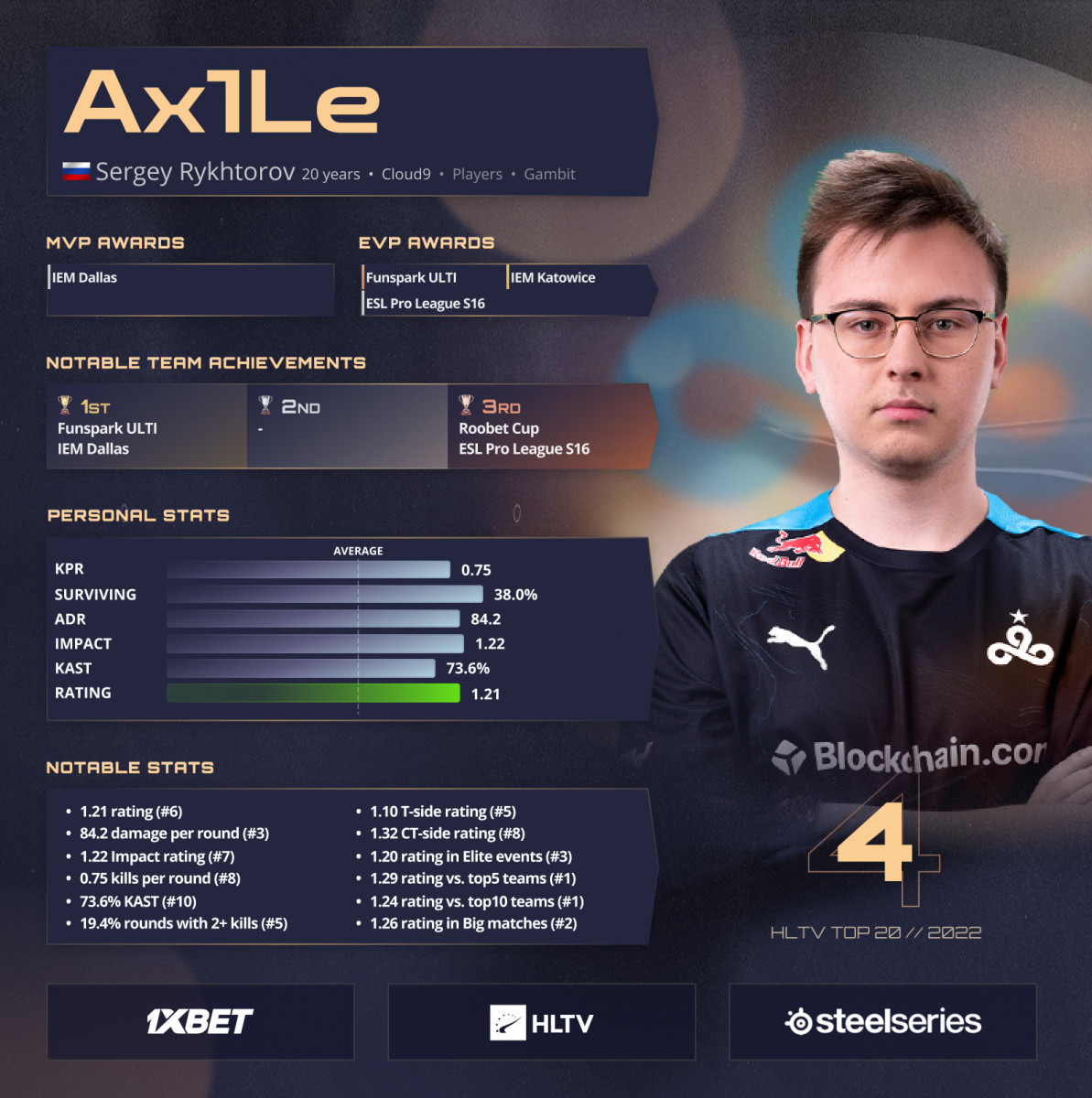 The three best players on the presented Top 20 list will be revealed tomorrow, January 14, during the special event HLTV Award Show 2022. Experts agree that the first three places in the ranking of the strongest representatives of the CS:GO pro scene last year will belong to Oleksandr "s1mple" Kostyliev (NAVI), Mathieu "ZywOo" Herbaut (Vitality) and Dmitry "sh1ro" Sokolov (Cloud9).
---
The Top 20 players in the world in 2022 according to HLTV.org are as follows:
4.
Sergey "Ax1Le" Rykhtorov (Cloud9)
5.
Nikola "NiKo" Kovač (G2)
6.
Helvijs "⁠broky⁠" Saukants (FaZe)
7.
Ilya "m0NESY" Osipov (G2)
8.
Robin "ropz" Kool (FaZe)
9.
Kaike "KSCERATO" Cerato (FURIA)
10.
Martin "stavn" Lund (Heroic)
11.
Russel "Twistzz" Van Dulken (FaZe)
12.
Benjamin "blameF" Bremer (Astralis)
13.
Håvard "⁠rain⁠" Nygaard (FaZe)
14.
Nemanja "huNter-" Kovač (G2)
15.
Mareks "YEKINDAR" Galinskis (Liquid)
16.
Valeriy "b1t" Vakhovskiy (NAVI)
17.
David "⁠frozen⁠" Čerňanský (MOUZ)
18.
Lotan "Spinx" Giladi (Vitality)
19.
Yuri "yuurih" Santos (FURIA)
20.
Dzhami "Jame" Ali (Outsiders)
Origin: www.hltv.org