electroNic among top 3 players with most kills on a single map at LAN events
NAVI's Denis "electroNic" Sharipov posted 41 frags against Illuminar at the European RMR event IEM Road to Rio 2022, placing him third on the list of players with the most frags per map in regulation at LAN events.
In this metric, electroNic is now ahead of Nikola "NiKo" Kovač with his 40 kills against Liquid at ECS S4 Finals in 2017, yet is still behind the Portuguese Luís "ZELIN" Lousada, who got 43 kills at a national LAN event in 2016 and the leader of the list Freddy "KRIMZ" Johansson, who had 44 kills versus MIBR at ESL Pro League S10 Finals three years ago.
Following the results of the match against Illuminar, which NAVI won 16:5, Sharipov averaged a 3.07 rating. With 41 frags to his credit, he only died 10 times.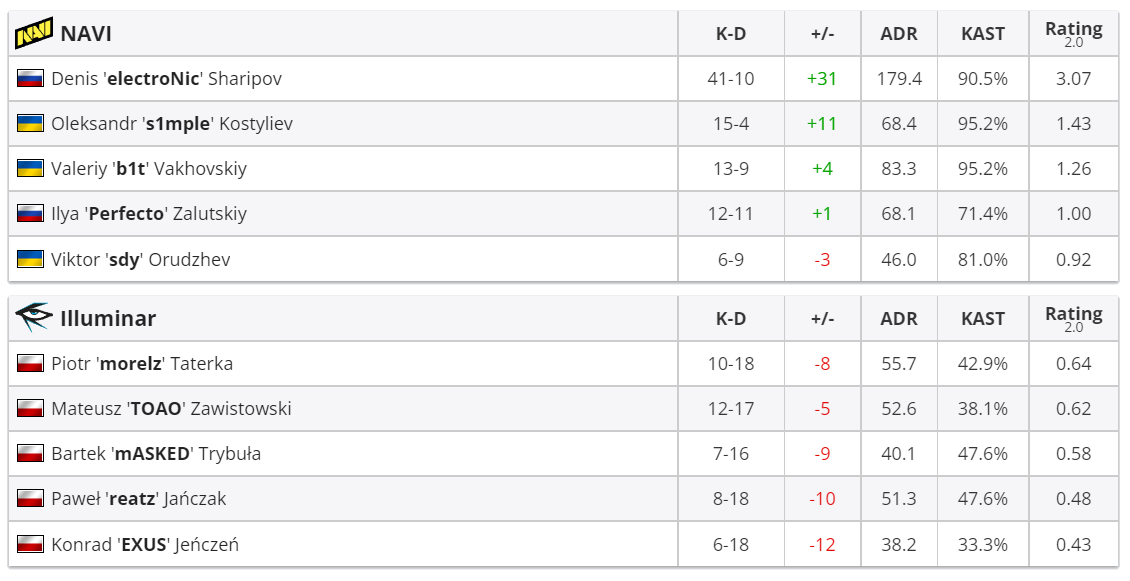 NAVI and Illuminar players' statistics on Dust2
IEM Road to Rio 2022 Europe RMR B, which besides NAVI and Illuminar features fourteen teams fighting for eight tickets to IEM Rio Major 2022, will continue tomorrow, October 5. You can follow up on the tournament in CSGO.com's match center via this link.