ENCE and FORZE advance to ESL Pro League Season 17 playoffs
ENCE and FORZE got two consecutive victories in the Group D at ESL Pro League Season 17, securing their berths at the tournament playoffs. In the upper bracket semifinals, the Marco "Snappi" Pfeiffer-led squad confidently defeated Rare Atom (16:3 on Overpass and 16:12 on Nuke), while the Russian team continued their sensational performance with a victory over Team Spirit (16:8 on Mirage, 7:16 on Anubis and 16:4 on Ancient).
Group D's second playday also saw confrontations between the teams that were off to an unsuccessful start at ESL Pro League Season 17: NAVI defeated Astralis (16:11 on Ancient, 3:16 on Overpass and 16:12 on Inferno), while Liquid took over ATK (16:12 on Mirage and 16:7 on Overpass).
Group D's upcoming matches will take place tomorrow, March 17, with Team Spirit facing Liquid and Rare Atom going up against NAVI. On Saturday, March 18, ATK and Astralis will fight for survival, while on Sunday ENCE and FORZE will battle it out in the upper bracket final for a ticket to the quarter-finals.
The current Group D bracket looks as follows: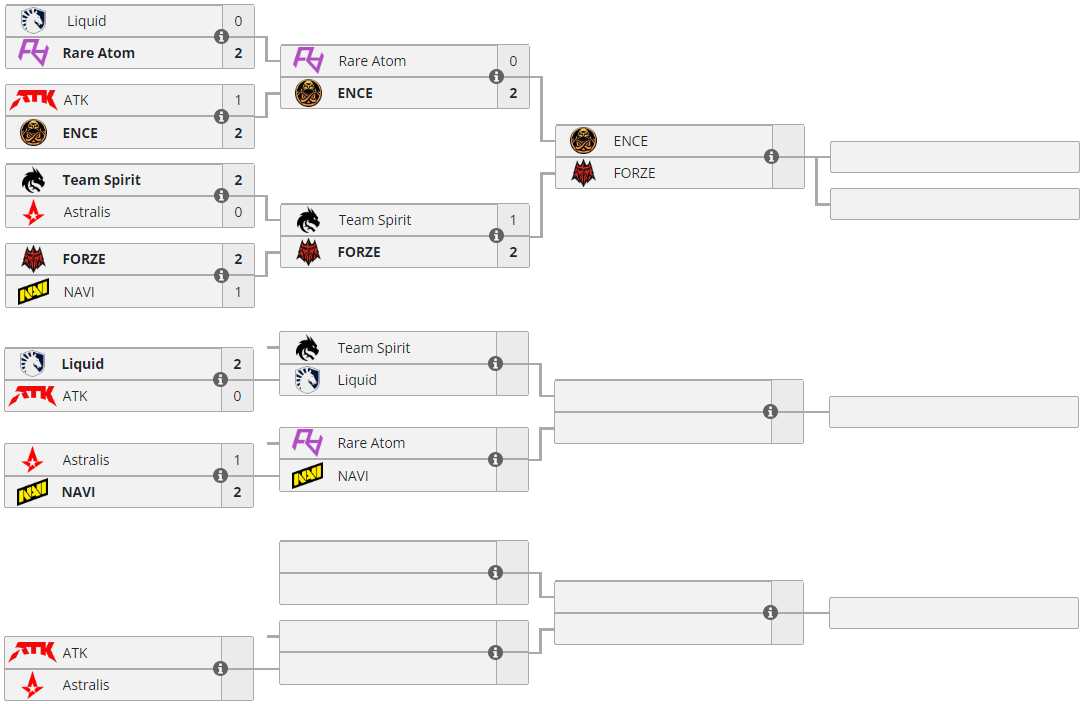 The full schedule, up-to-date results and live broadcast of ESL Pro League Season 17 can be found on the tournament page on our website via this link.