FURIA advance to ESL Pro League Season 17 playoffs; Imperial and SAW out
FURIA have secured one of the four tickets to the ESL Pro League Season 17 playoffs, which are played in Group B. The Brazilians joined MOUZ and Heroic, who previously advanced to the next stage of the tournament, after defeating BIG with a scoreline of 2:1 – 16:13 on Nuke, 11:16 on Vertigo and 16:10 on Inferno.
In addition to the match for a playoff spot, the playday saw two elimination matches with Imperial and SAW being eliminated from the prestigious ESL league. The Gabriel "FalleN" Toledo-led squad lost to Complexity with a scoreline of 1:2 – 16:1 on Inferno, 14:16 on Ancient and 23:25 on Overpass, while the Portuguese fell to Movistar Riders with a scoreline of 0:2 – 7:16 on Overpass and 11:16 on Nuke.
Group B's final matches will take place on March 5. The playday will kick off at 14:30 MSK with an elimination match between BIG and Complexity, the winner of which will face off Movistar Riders for a spot at the playoffs at 21:30 MSK. These confrontations will be divided by the Heroic – MOUZ match for the first place in the group and the advancement straight to the quarterfinals.
The current Group B bracket looks as follows: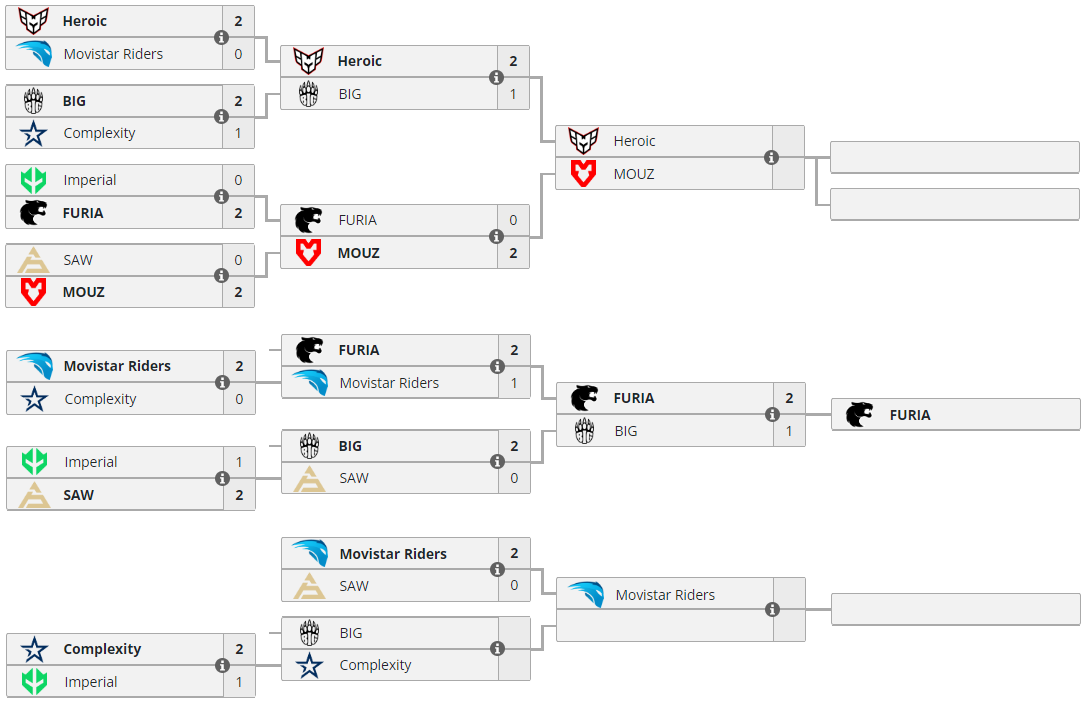 The full schedule, up-to-date results and live broadcast of ESL Pro League Season 17 can be found on the tournament page on our website via this link.