s1mple crowned best player of 2022;  ZywOo and sh1ro come in at second and third places
NAVI's Oleksandr "s1mple" Kostyliev was named the best player of 2022 according to HLTV.org, which was announced during the HLTV Award Show 2022 ceremony. The second and third places in the Top 20 belong to Mathieu "ZywOo" Herbauf (Vitality) and Dmitry "sh1ro" Sokolov (Cloud9), respectively.
s1mple, together with NAVI, won only one tournament, which was BLAST Premier Spring Final 2022, but at the same time kept a high individual level of play throughout the year. He was awarded two MVP medals (most valuable player of a tournament) and five EVPs (exceptionally valuable player).
Kostyliev averaged a 1.26 rating across 2022. The Ukrainian emerged as the best in the world in terms of the average number of kills per round, percentage of rounds with two or more frags and impact rating.
It is important to note that s1mple became the first player in the history of the CS:GO pro scene to be named the best in the world three times. In addition to last year's award, the star sniper secured his No.1 placings in 2018 and 2021.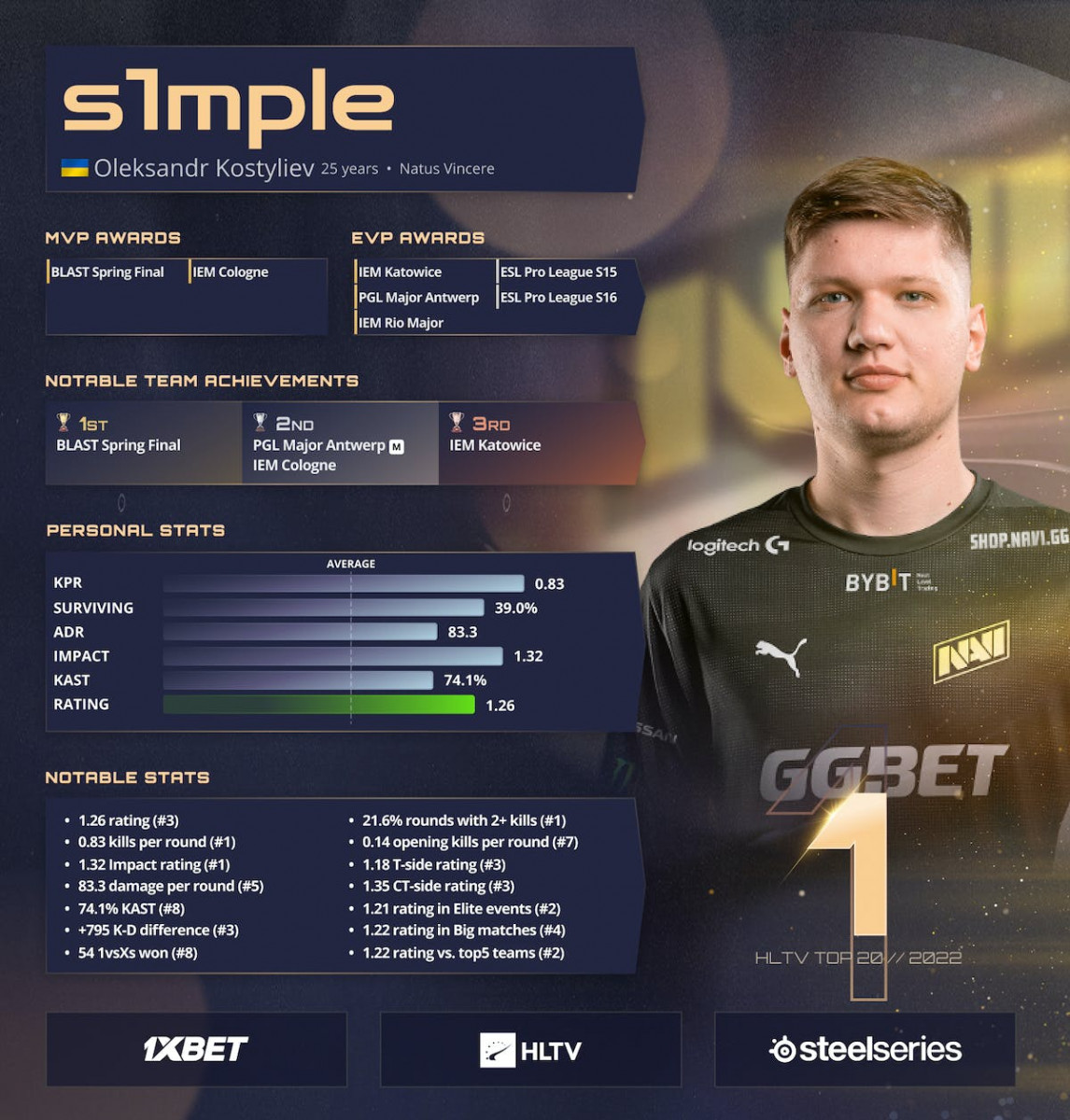 ZywOo and his team won ESL Pro League Season 16. His individual performance earned him one MVP award and three EVPs.
In 2022, the Frenchman recorded an average rating of 1.27 and ended up headlining several statistical charts. Among other things, he had the best K-D difference, as well as the highest rating in big matches.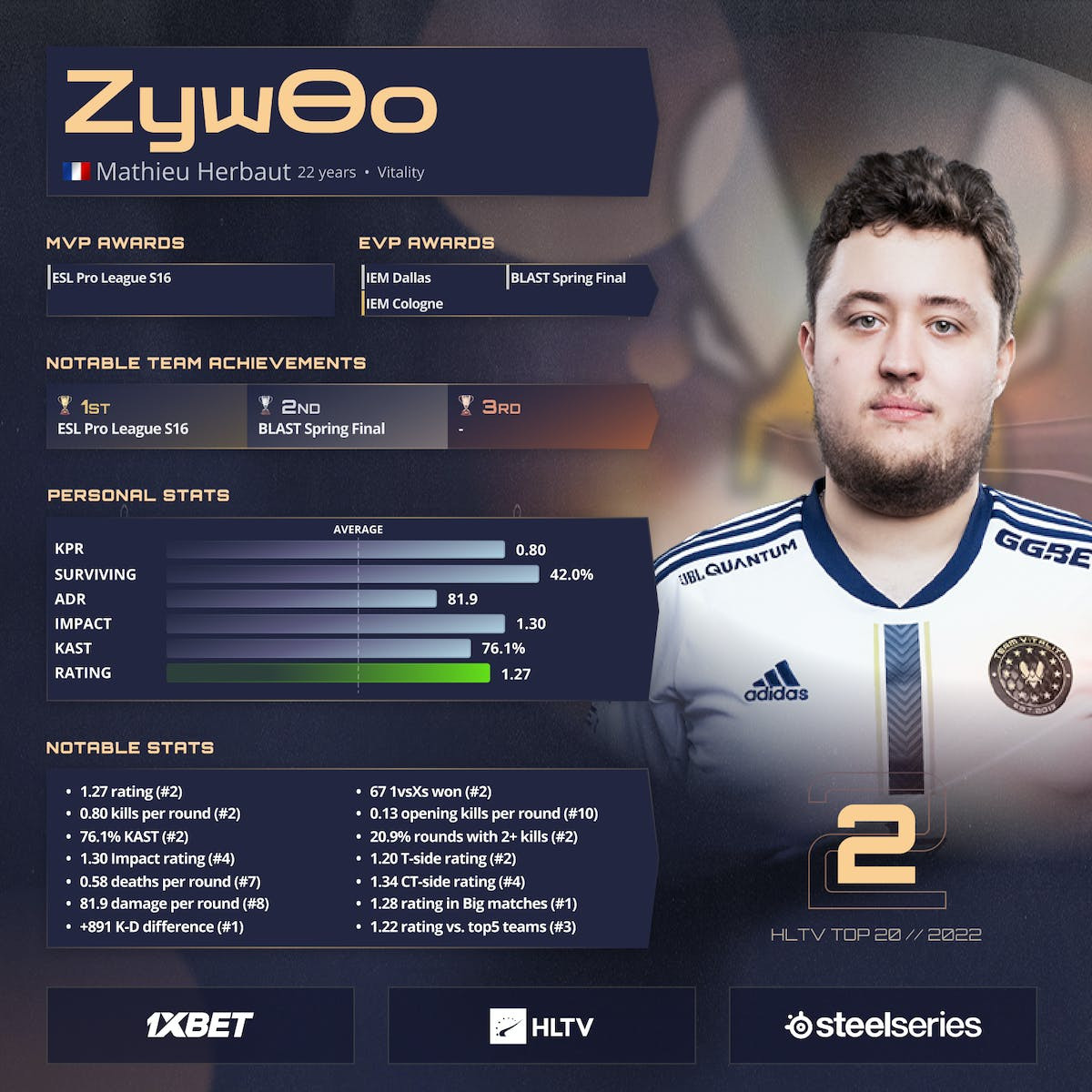 Just like s1mple and ZywOo, sh1ro became the champion of one event last year, which for Cloud9 was IEM Dallas 2022. As far as individual awards are concerned, the Russian has one MVP and six EVP titles under his belt.
Sokolov ended the year with an average rating of 1.28, the highest in the pro scene. In addition to that, his top-3 appearance was made possible thanks to his KAST percentage, T-side rating and rating in elite events.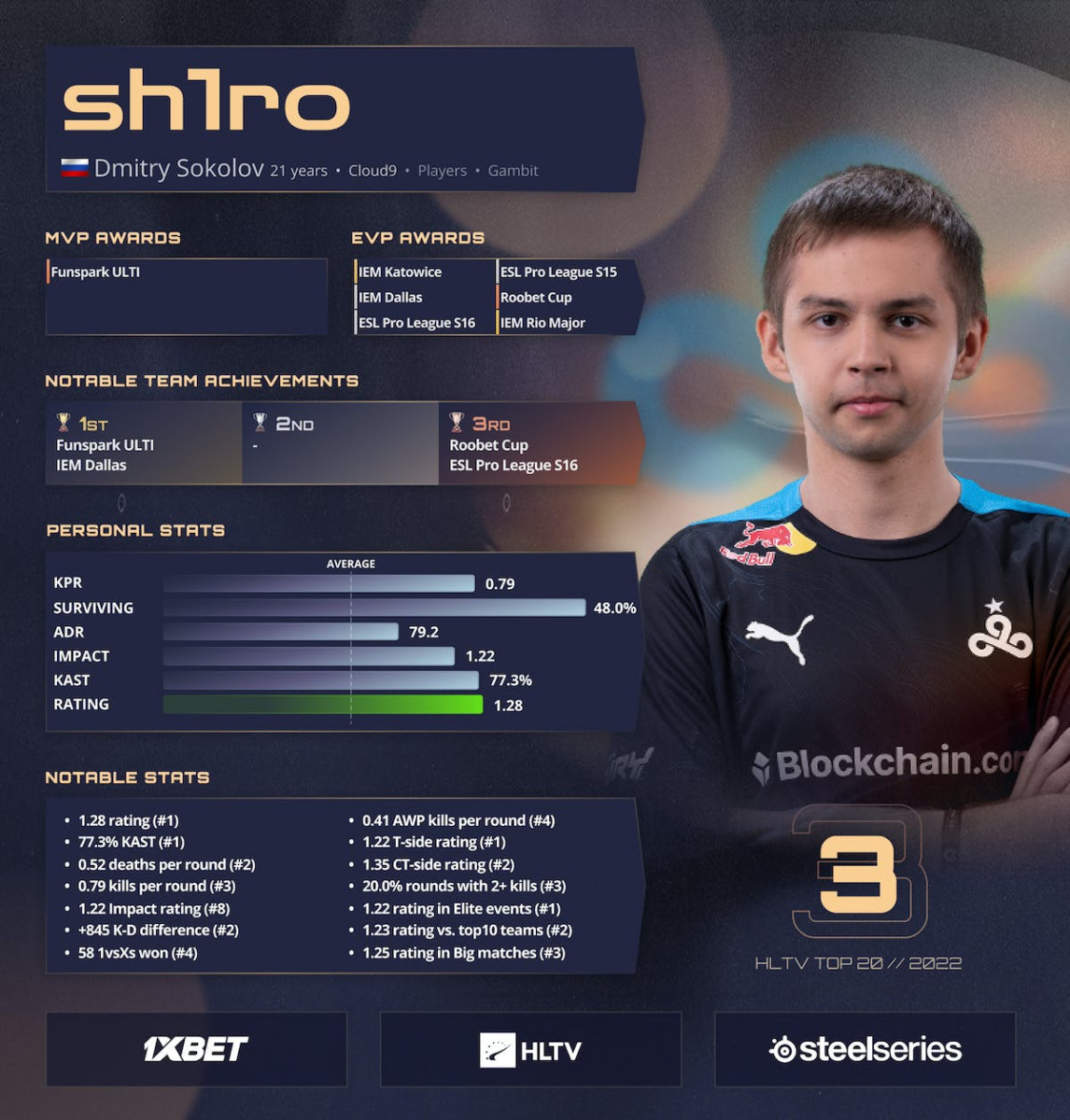 ---
The Top 20 players in the world in 2022 according to HLTV.org are as follows:
1.
Oleksandr "s1mple" Kostyliev (NAVI)
2.
Mathieu "ZywOo" Herbaut (Vitality)
3.
Dmitry "sh1ro" Sokolov (Cloud9) (Cloud9)
4.
Sergey "Ax1Le" Rykhtorov (Cloud9)
5.
Nikola "NiKo" Kovač (G2)
6.
Helvijs "⁠broky⁠" Saukants (FaZe)
7.
Ilya "m0NESY" Osipov (G2)
8.
Robin "ropz" Kool (FaZe)
9.
Kaike "KSCERATO" Cerato (FURIA)
10.
Martin "stavn" Lund (Heroic)
11.
Russel "Twistzz" Van Dulken (FaZe)
12.
Benjamin "blameF" Bremer (Astralis)
13.
Håvard "⁠rain⁠" Nygaard (FaZe)
14.
Nemanja "huNter-" Kovač (G2)
15.
Mareks "YEKINDAR" Galinskis (Liquid)
16.
Valeriy "b1t" Vakhovskiy (NAVI)
17.
David "⁠frozen⁠" Čerňanský (MOUZ)
18.
Lotan "Spinx" Giladi (Vitality)
19.
Yuri "yuurih" Santos (FURIA)
20.
Dzhami "Jame" Ali (Outsiders)
21.
Denis "electroNic" Sharipov (NAVI)
22.
Jonathan "EliGE" Jablonowski (Liquid)
23.
Keith "NAF" Markovic (Liquid)
24.
Abdul "degster" Gasanov (OG)
25.
Alvaro "SunPayus" Garcia (ENCE)
26.
Kristian "k0nfig" Wienecke
27.
Evgenii "FL1T" Lebedev (Outsiders)
28.
Florian "syrsoN" Rische (BIG)
29.
Casper "cadiaN" Møller (Heroic)
30.
Fredrik "REZ" Sterner (NIP)
Origin: www.twitch.tv