KSCERATO ranks ninth in HLTV.org's Top 20 players of 2022
Brazilian Kaike "KSCERATO" Cerato has earned the ninth place on the list of the best players in 2022 according to HLTV.org. After Yuri "yuurih" Santos, he became the second FURIA member to be featured in the ranking.
Over the past year, Cerato, along with his team, was not able to win any tournament, but at the same time he secured a 3-4th place finishes at ESL Pro League Season 15, IEM Dallas 2022 and IEM Rio Major 2022. The esports athlete also earned four EVP awards, which go to exceptionally valuable players of various events.
KSCERATO ended 2022 with an average rating of 1.17. Among other things, HLTV.org authors emphasized that he had such standout performances at all big events he attended.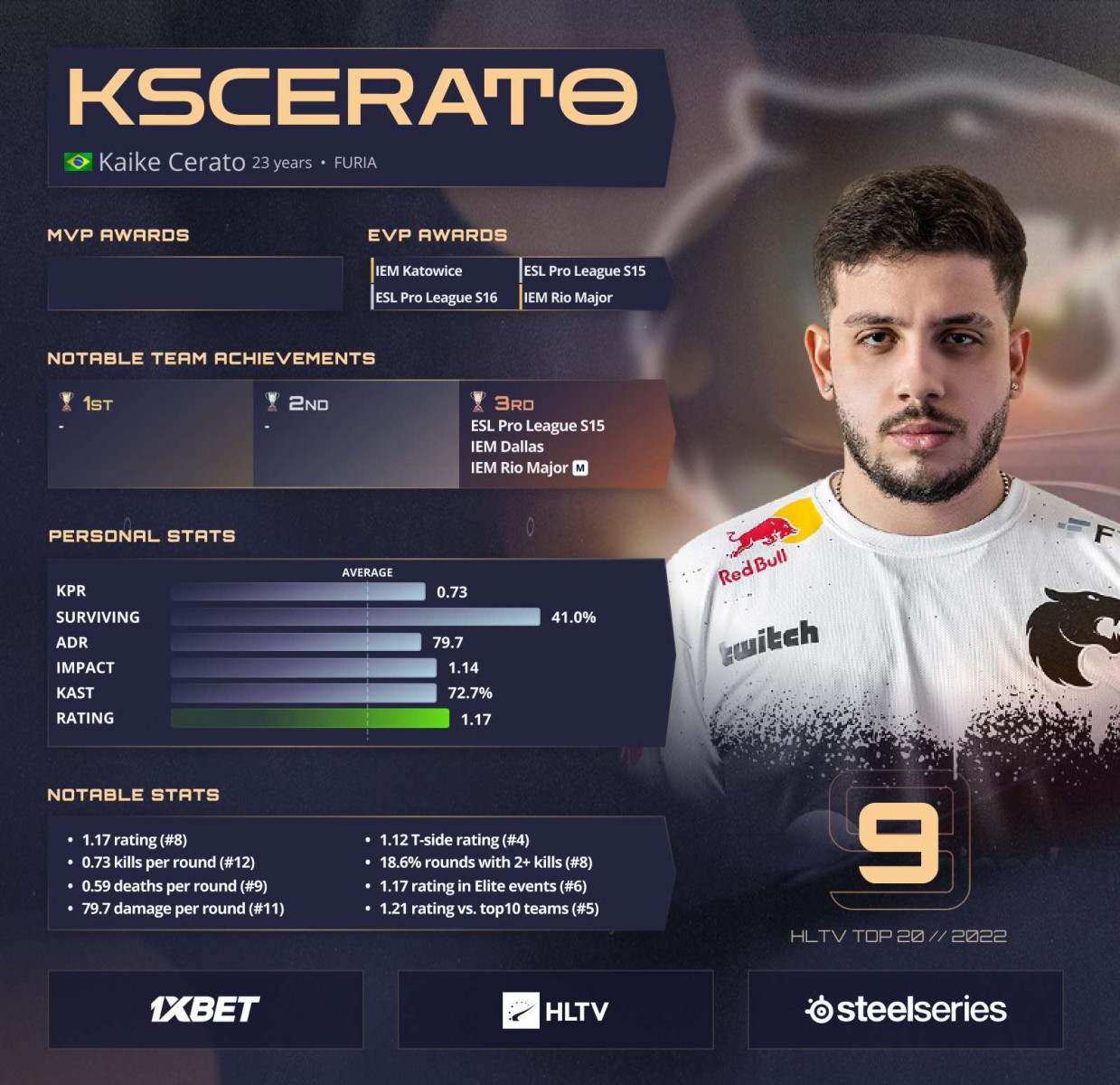 The list of the top 20 players of the past year will be published every day until January 14. The player coming in at eighth place will be revealed tomorrow, January 9, at 22:00 MSK.
---
The Top 20 players in the world in 2022 according to HLTV.org are as follows:
9.
Kaike "KSCERATO" Cerato (FURIA)
10.
Martin "stavn" Lund (Heroic)
11.
Russel "Twistzz" Van Dulken (FaZe)
12.
Benjamin "blameF" Bremer (Astralis)
13.
Håvard "⁠rain⁠" Nygaard (FaZe)
14.
Nemanja "huNter-" Kovač (G2)
15.
Mareks "YEKINDAR" Galinskis (Liquid)
16.
Valeriy "b1t" Vakhovskiy (NAVI)
17.
David "⁠frozen⁠" Čerňanský (MOUZ)
18.
Lotan "Spinx" Giladi (Vitality)
19.
Yuri "yuurih" Santos (FURIA)
20.
Dzhami "Jame" Ali (Outsiders)
Origin: www.hltv.org