yuuurih ranks 19th in HLTV.org's Top 20 players of 2022
Yuri "yuurih" Santos has secured nineteenth place on the ranking of the best players of 2022 according to HLTV.org. Throughout the year, the 23-year-old Brazilian played for FURIA.
Last year, yuurih, along with his team, failed to clinch a single trophy yet reached the semifinals of big events three times. This happened at ESL Pro League Season 15, IEM Dallas 2022 and IEM Rio Major 2022, each of which Santos finished as an EVP – an exceptionally valuable player of the competition.
yuurih ended the year having averaged a 1.12 rating. HLTV.org authors noted that, among other things, the Brazilian's appearance in the top 20 is due to good performances at tournaments that ended up successful for his team, as well as a high average damage per round (80.7 points), which in turn saw him have more assists than any other player this year (0.16 on average per round).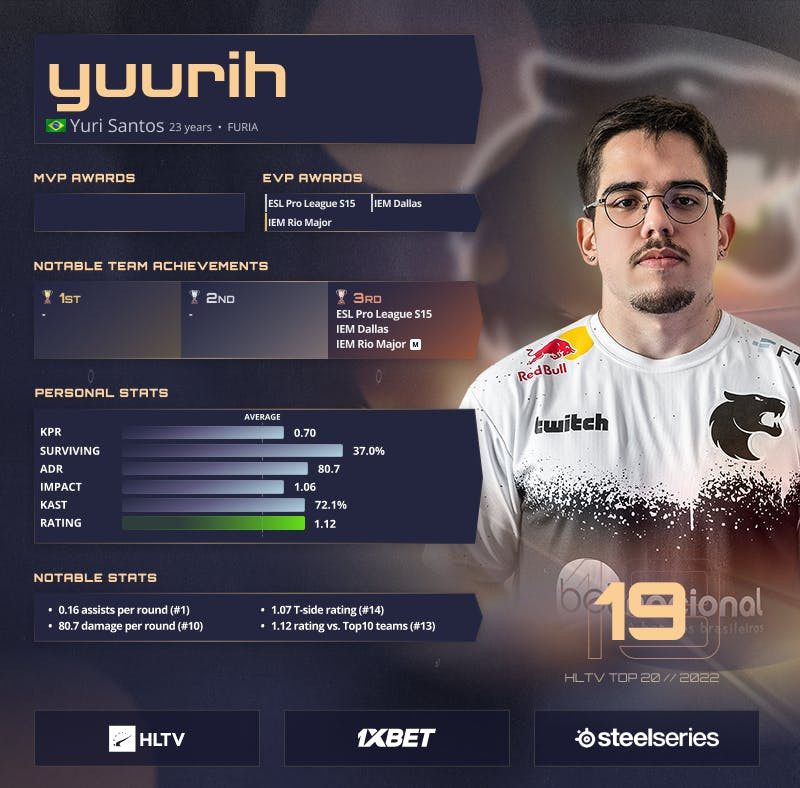 HLTV.org will be revealing the Top 20 best players of the past year one each day from January 1 to 14, 2022. The player coming in at eighteenth place will be announced tomorrow, January 2, at 18:00 MSK, while the esports athlete placing seventeenth will be known at 22:00 MSK the same day.
---
The top 20 best players in the world in 2022 according to HLTV.org are as follows:
19.
Yuri "yuurih" Santos (FURIA)
20.
Dzhami "Jame" Ali (Outsiders)
Origin: www.hltv.org