huNter- ranks 14th in HLTV.org's Top 20 players of 2022
The fourteenth place in the ranking of the best players of 2022 according to HLTV.org belongs to Nemanja "huNter-" Kovač. Throughout the year, the 27-year-old Bosnian has played for G2.
Among the most significant achievements of huNter- at tournaments are the victory at BLAST Premier World Final 2022, making the grand final of IEM Katowice 2022, as well as a 3-4th place finish at BLAST Premier Spring Final 2022 and ESL Pro League Season 16. At the two latter, he secured an exceptionally valuable player (EVP) award by HLTV.org.
In 2022, Kovač averaged a 1.12 rating. The G2 representative also ended up among the top 10 players in the world in terms of average rating in big matches and elite events in general.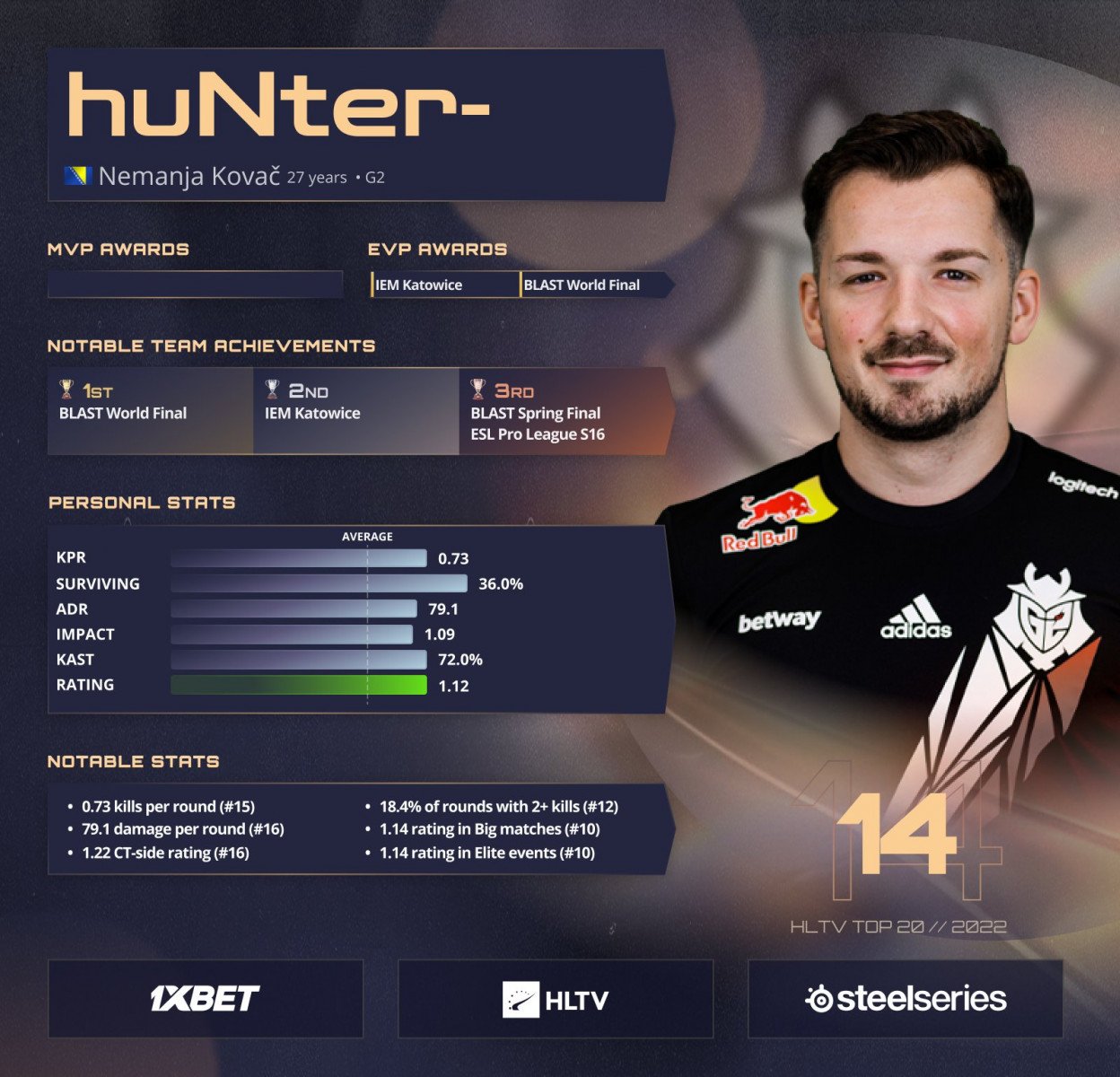 The list of the top 20 players of the past year will continue to be published each day until January 14. The player in thirteenth place will be announced today, January 4, at 22:00 MSK.
---
The top 20 players in the world in 2022 according to HLTV.org are as follows:
14.
Nemanja "huNter-" Kovač (G2)
15.
Mareks "YEKINDAR" Galinskis (Liquid)
16.
Valeriy "b1t" Vakhovskiy (NAVI)
17.
David "⁠frozen⁠" Čerňanský (MOUZ)
18.
Lotan "Spinx" Giladi (Vitality)
19.
Yuri "yuurih" Santos (FURIA)
20.
Dzhami "Jame" Ali (Outsiders)
Origin: www.hltv.org