m0NESY leads BLAST Premier World Final 2022 MVP race
G2's Ilya "m0NESY" Osipov is the leader of the race for HLTV.org's most valuable player of BLAST Premier World Final 2022 award, the consultant of the reputable CS:GO site Petar Milovanovic reported via his Twitter account.
Before the start of the ongoing LAN event's final match between G2 and Liquid, Osipov leads among all participants in the tournament in terms of most key indicators and is the most consistent player. In particular, his average rating is 1.24.
m0NESY's closest pursuer is Mareks "YEKINDAR" Galinskis of Liquid. The Latvian esports athlete will be able to grab the MVP medal in case of a dominant showing in the grand final and an absolutely disastrous performance of his competitor from G2.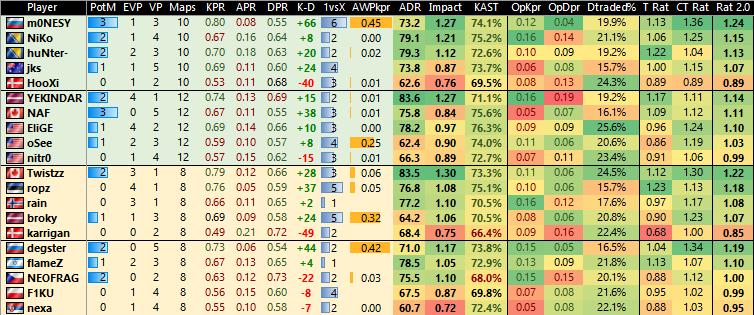 At the time of publishing, the match between Liquid and G2 has already kicked off. You can follow up on BLAST Premier World Final 2022 on our website via this link.
Origin: twitter.com