CS:GO hits biggest ban wave in 2022
Between July 14 and 17, Valve banned more than seven thousand CS:GO accounts, which marked the biggest ban wave this year. The statistics were provided by ConVars which tracks player bans.
The peak of blocks fell on July 16, when the restrictions were imposed on 4,080 accounts, with all of them being game ones, while the number of bans through Valve anti-cheat (VAC) did not change significantly compared to the previous days.
For comparison, VAC tends to block around 200-300 accounts per day, while the number of game bans amounts to 100-250.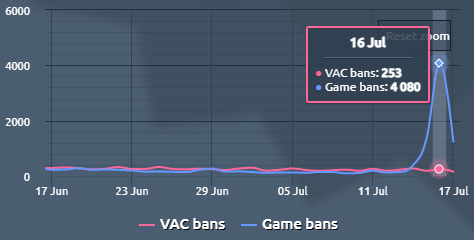 Valve has yet to comment on the ban wave. Third-party platforms have no information about the reasons for the mass user blocking as well.
Origin: convars.com