BIG, FaZe and Cloud9 start Roobet Cup 2022 with victories
The first Roobet Cup 2022 matchday saw Group A and B getting their favorites. The opening wins were secured by BIG, FaZe and Cloud9.
BIG and FaZe won the first three points in Group A after beating Entropiq and OG respectively. The German team took over the Russians 2:1 (11:16 on Overpass, 16:10 on Dust2 and 16:13 on Mirage), while the European roster bested their opponents in a two-map affair (16:8 on Dust2 and 16:14 on Overpass).
Group B saw only one match playing out, where Cloud9 defeated Complexity 2:0 – 19:16 on Inferno and 16:7 on Dust2. The Astralis – Movistar Riders pairing will play tomorrow, June 23, due to technical issues on the tournament organizer's part.
The fight for $250,000 as part of Roobet Cup 2022 will continue with opening meetings in Group C and D. The Outsiders – forZe and ENCE – Eternal Fire matchups will take place at 16:00 MSK, while FURIA – 9z and Imperial – MOUZ meetings are scheduled for 20:00 MSK.
The current group stage standings: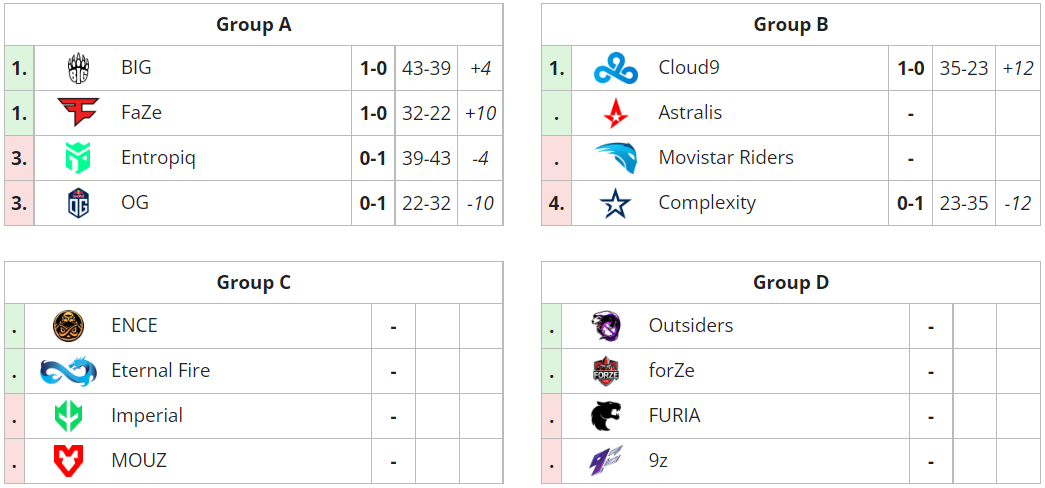 The full schedule, up-to-date results and live broadcast of Roobet Cup 2022 are available on the event's page on our website via this link.