sh1ro ranks 4th in HLTV's top 20 players of 2021
HLTV.org has named AWPer Dmitry "sh1ro" Sokolov the fourth best player in 2021. Thus, the Russian joined Sergey "Ax1Le" Rykhtorov and Abay "HObbit" Khasenov, the members of Gambit who also made it into the prestigious ranking.
Throughout 2021, Sokolov and his team won six big tournaments. For his individual contribution to the success of Gambit, he has received three MVP medals and eleven EVP (exceptionally valuable player) titles.
The average rating of sh1ro in 2021 amounted to 1.24. Among other things, he became the best in terms of the number of clutches won (112) and successful opening duels (69.6%).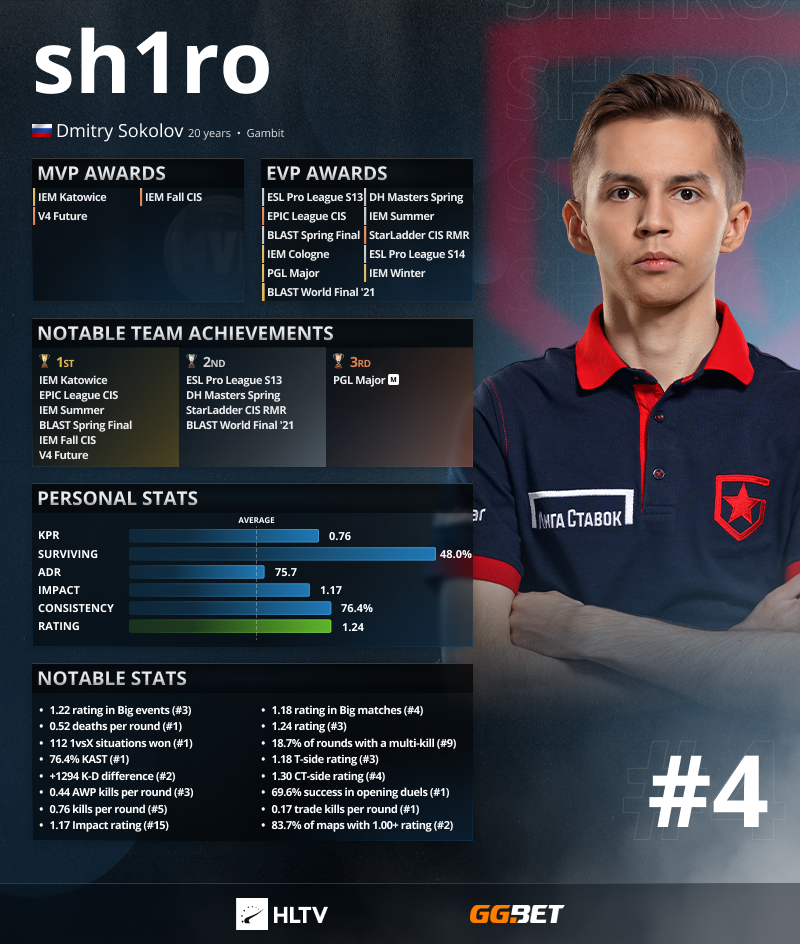 The list of the best players of the past year is published from January 3 to 22, 2022. The final three spots of the top 20 players of 2021 ranking are to be revealed on January 22.
---
The top 20 best players in the world in 2021 according to HLTV.org:
4.
Dmitry "sh1ro" Sokolov
5.
Sergey "Ax1Le" Rykhtorov
6.
Abay "HObbit⁠" Khasenov
7.
Denis "electroNic" Sharipov
8.
Mareks "YEKINDAR" Galinskis
9.
Valeriy "b1t" Vakhovskiy
10.
Dzhami "Jame" Ali
11.
Nikolai "device" Reedtz
12.
Nemanja "⁠huNter-⁠" Kovač
13.
Benjamin "⁠blameF⁠" Bremer
14.
Keith "NAF" Markovic
15.
Kaike "KSCERATO" Cerato
16.
Martin "stavn" Lund
17.
Russel "Twistzz" van Dulken
18.
Robin "ropz" Kool
19.
Jonathan "EliGE" Jablonowski
20.
Helvijs "broky" Saukants
Origin: www.hltv.org