HObbit ranks 6th in HLTV's top 20 players of 2021
Following 2021, Abay "HObbit⁠" Khasenov has taken sixth place on the HLTV's top 20 players of 2021 ranking. The Kazakhstani became the first member of Gambit to enter the prestigious list.
Together with Khasenov, the CIS roster dominated throughout the first half of the year and remained in the competition for the rest of 2021, having won six tier-1 tournaments. The individual contribution of the 27-year-old to the success of his team was recognized by two MVP medals and nine EVP titles.
HObbit⁠ ended 2021 with an average rating of 1.18. Among other things, HLTV.org drew attention to the player's high individual rating at big events – 1.14.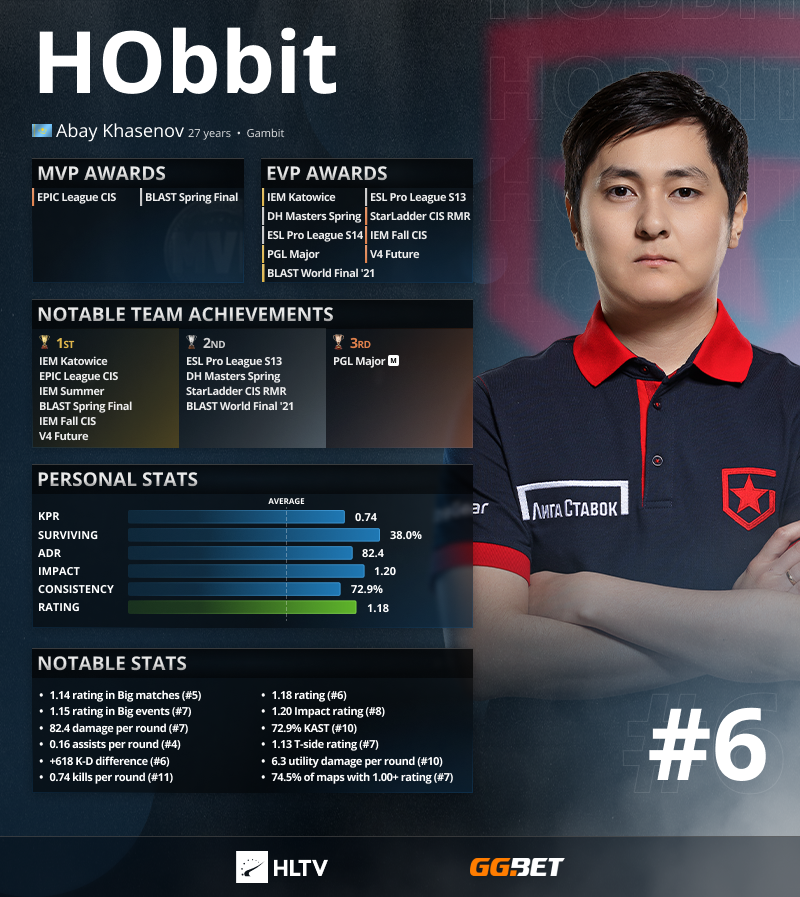 The list of the best players of the past year will be updated every day from January 3 to 22, 2022. Tomorrow, January 16, the authors will name the player to place 5th.
---
The top 20 best players in the world in 2021 according to HLTV.org:
6.
Abay "HObbit⁠" Khasenov
7.
Denis "electroNic" Sharipov
8.
Mareks "YEKINDAR" Galinskis
9.
Valeriy "b1t" Vakhovskiy
10.
Dzhami "Jame" Ali
11.
Nikolai "device" Reedtz
12.
Nemanja "⁠huNter-⁠" Kovač
13.
Benjamin "⁠blameF⁠" Bremer
14.
Keith "NAF" Markovic
15.
Kaike "KSCERATO" Cerato
16.
Martin "stavn" Lund
17.
Russel "Twistzz" van Dulken
18.
Robin "ropz" Kool
19.
Jonathan "EliGE" Jablonowski
20.
Helvijs "broky" Saukants
Origin: www.hltv.org