Jame ranks 10th in HLTV's top 20 players of 2021
Dzhami "Jame" Ali has finished the year in 10th place on the list of the best players of 2021 by HLTV.org. The Russian AWPer made his first appearance and became the first representative of the CIS in the prestigious ranking.
Last year, with Jame as an in-game leader, Virtus.pro won only one big tournament, which was cs_summit 7, yet got into the top 4 at IEM Katowice 2021, two RMR events for the CIS and IEM Winter 2021, and also made it to the PGL Major Stockholm 2021 playoffs. The individual achievements of the 23-year-old were recognized by one MVP medal and four EVP titles.
In 2021, an average rating of VP's in-game leader was 1.16. In terms of other statistical indicators, he leads in AWP kills per round (0.48), while also coming second in average deaths per round (0.54) and clutches won (93).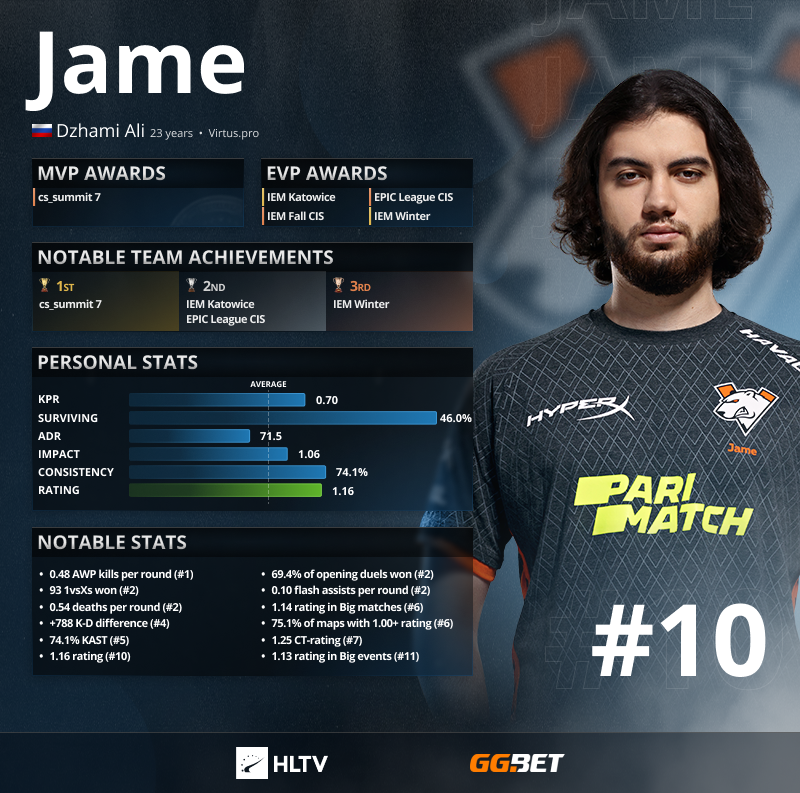 The list of the best players of the past year will be updated every day from January 3 to 22, 2022. Tomorrow, January 14, the authors will name the player to place 9th.
---
The top 20 best players in the world in 2021 according to HLTV.org:
10.
Dzhami "Jame" Ali
11.
Nikolai "device" Reedtz
12.
Nemanja "⁠huNter-⁠" Kovač
13.
Benjamin "⁠blameF⁠" Bremer
14.
Keith "NAF" Markovic
15.
Kaike "KSCERATO" Cerato
16.
Martin "stavn" Lund
17.
Russel "Twistzz" van Dulken
18.
Robin "ropz" Kool
19.
Jonathan "EliGE" Jablonowski
20.
Helvijs "broky" Saukants
Origin: www.hltv.org