BIG and Monte advance to Roobet Cup 2023 playoffs; Astralis and fnatic relegated from event
The fourth playday of Roobet Cup 2023 saw BIG and Monte securing spots in the playoffs of the event. German team bested 9INE (13:11 on Vertigo, 20:22 on Anubis and 13:0 on Ancient), while the Volodymyr "Woro2k" Veletniuk-led roster defeated NIP (13:11 on Overpass and 16:14 on Mirage).
In addition, Astralis and fnatic got eliminated from the tournament. Astralis lost to Apeks (19:22 on Mirage, 13:8 on Overpass and 10:13 on Ancient), while the fnatic fell to OG (9:13 on Overpass, 13:4 on Anubis and 9:13 on Inferno).
Tomorrow, October 29, will be the last day of the Roobet Cup 2023 group stage. At 16:00 CET, the Heroic – Aurora and Movistar Riders – 9z matches will take place, while at 19:00 CET, the 9INE – Apeks and NIP – OG matches will play out.
The current group stage standings: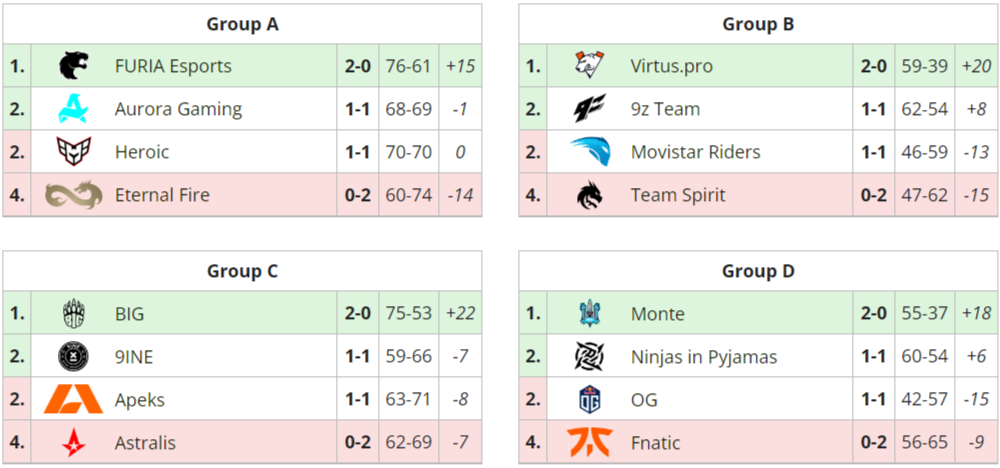 The full schedule, up-to-date results and live broadcast of Roobet Cup 2023 are available on the event's page on our website via this link.