Virtus.pro and FURIA through to Roobet Cup 2023 playoffs; Team Spirit and Eternal Fire out
The third day of the group stage at Roobet Cup 2023 has ended with Virtus.pro and FURIA advancing to the tournament playoffs. While the Russian team bested Movistar Riders (13:7 on Ancient and 13:6 on Overpass), the Brazilians defeated Heroic (11:13 on Nuke, 13:10 on Ancient and 13:7 on Mirage).
At the same time, Team Spirit and Eternal Fire got eliminated from the tournament. Team Spirit lost to 9z (4:13 on Mirage, 13:3 on Nuke and 4:13 on Anubis), while the Turks fell to Aurora (13:9 on Ancient, 10:13 on Anubis and 6:13 on Overpass).
Roobet Cup 2023 continues tomorrow, October 28. At 15:00 CET matches for playoff tickets between 9INE – BIG and Monte – NIP will play out, while at 18:00 CET Astralis – Apeks and OG – fnatic matchups will fight for survival at the event.
The current group stage standings: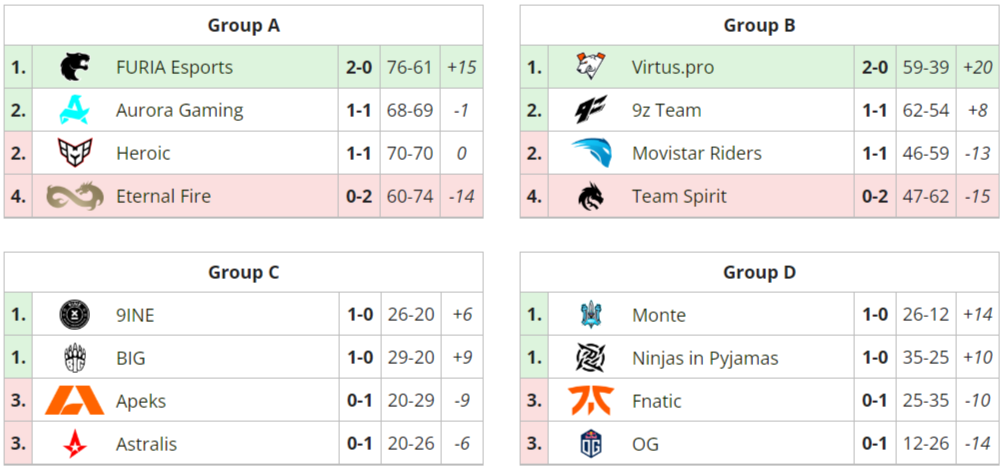 The full schedule, up-to-date results and live broadcast of Roobet Cup 2023 are available on the event's page on our website via this link.