FaZe secure first Group B grand final spot at BLAST Premier Spring Groups 2023
The upper bracket final of Group B at BLAST Premier Spring Groups 2023 saw FaZe beat OG 2:1 – 16:7 on Mirage, 11:16 on Ancient and 16:4 on Inferno. This result propelled Finn "karrigan" Andersen's squad to the grand final of the quartet.
In other action of the matchday, Liquid defeated Complexity with a scoreline of 2:0 – 16:2 on Anubis and 16:12 on Overpass. The winners of the encounter between the North American teams will progress to the lower bracket final, while the losing roster will start the next stage of the tournament with the lowest seed possible.
The lower bracket final of Group B, featuring OG and Liquid, will take place on January 24. The victors of the confrontation will square off against FaZe for the top spot in the quartet and a direct ticket to BLAST Premier Spring Final 2023.
The current Group B bracket looks as follows: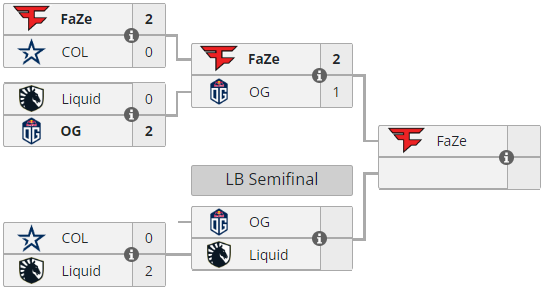 The full schedule, up-to-date results and live broadcast of BLAST Premier Spring Groups 2023 are available on the tournament's page on our website via this link.