ropz ranks 8th in HLTV.org's Top 20 players of 2022
HLTV.org has revealed the player coming in at the eighth spot on its ranking of the best players of 2022. This position belongs to FaZe member Robin "ropz" Kool.
Last year, Kool and his teammates won four prestige events: IEM Katowice 2022, ESL Pro League Season 15, PGL Major Antwerp 2022 and IEM Cologne 2022. His individual level of play was honored by one MVP and four exceptionally valuable player (EVP) awards.
In 2022, ropz averaged a 1.14 rating. Among other things, he stood out with his K-D difference (+581) and the number of clutches won (58). In these respects, the star Estonian is sixth best among all players.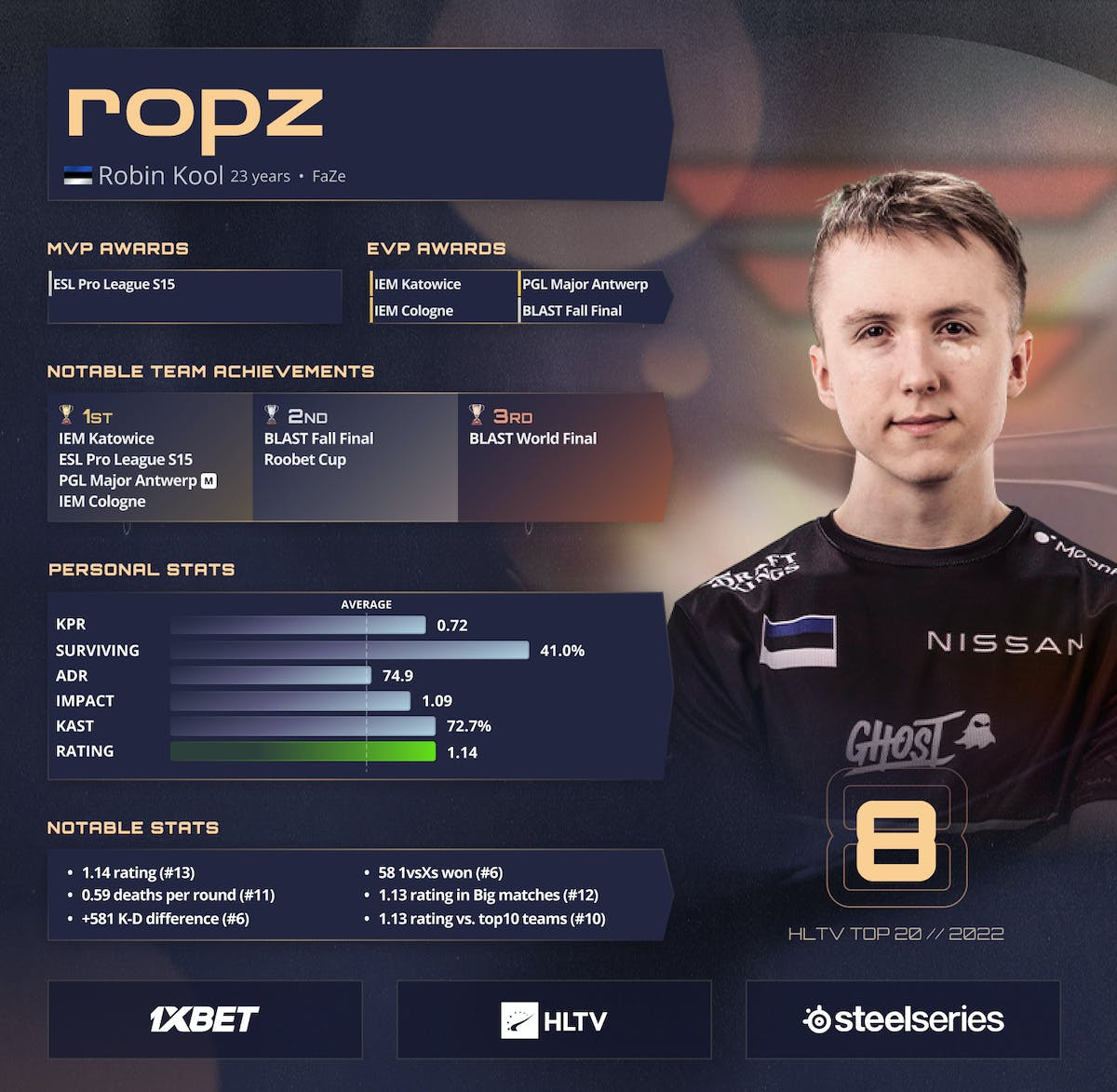 The list of the top 20 players of the past year will be published every day until January 14. The player coming in at seventh place will be revealed tomorrow, January 10, at 22:00 MSK.
---
The Top 20 players in the world in 2022 according to HLTV.org are as follows:
8.
Robin "ropz" Kool (FaZe)
9.
Kaike "KSCERATO" Cerato (FURIA)
10.
Martin "stavn" Lund (Heroic)
11.
Russel "Twistzz" Van Dulken (FaZe)
12.
Benjamin "blameF" Bremer (Astralis)
13.
Håvard "⁠rain⁠" Nygaard (FaZe)
14.
Nemanja "huNter-" Kovač (G2)
15.
Mareks "YEKINDAR" Galinskis (Liquid)
16.
Valeriy "b1t" Vakhovskiy (NAVI)
17.
David "⁠frozen⁠" Čerňanský (MOUZ)
18.
Lotan "Spinx" Giladi (Vitality)
19.
Yuri "yuurih" Santos (FURIA)
20.
Dzhami "Jame" Ali (Outsiders)
Origin: www.hltv.org