stavn ranks tenth in HLTV.org's Top 20 players of 2022
Heroic's Martin "stavn" Lund has taken the tenth spot on the list of the best players in the world in 2022, which continues to be published by HLTV.org. The Dane made a third consecutive appearance in the ranking, where he previously placed 16th and 12th.
The best achievements of stavn together with Heroic over the past 12 months were the victory at BLAST Premier Fall Final 2022, reaching the grand final of IEM Rio Major 2022 and a 3-4th place finish at IEM Katowice 2022. Throughout the year, Lund was the main star of his team and was four times named an exceptionally valuable player of a tournament (EVP).
stavn also emerged among the pro scene's leaders by various statistics and ended the year with an average rating of 1.17. Among other things, he was successful in trade kills (0.16 on average per round) and assists (0.15 on average per round).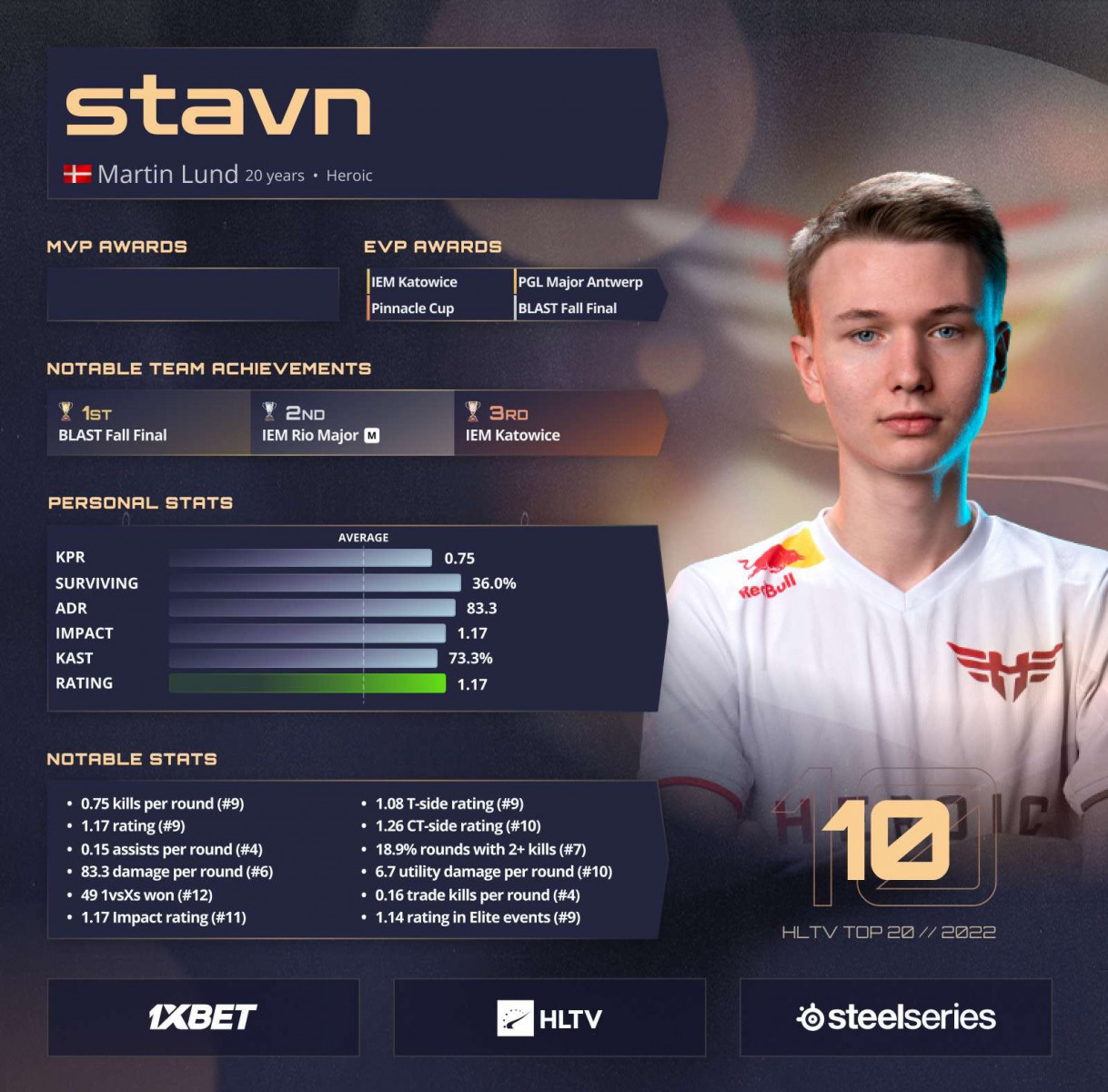 The list of the top 20 players of the past year will be published every day until January 14. The player coming in at ninth place will be revealed tomorrow, January 8, at 22:00 MSK.
---
The Top 20 players in the world in 2022 according to HLTV.org are as follows:
10.
Martin "stavn" Lund (Heroic)
11.
Russel "Twistzz" Van Dulken (FaZe)
12.
Benjamin "blameF" Bremer (Astralis)
13.
Håvard "⁠rain⁠" Nygaard (FaZe)
14.
Nemanja "huNter-" Kovač (G2)
15.
Mareks "YEKINDAR" Galinskis (Liquid)
16.
Valeriy "b1t" Vakhovskiy (NAVI)
17.
David "⁠frozen⁠" Čerňanský (MOUZ)
18.
Lotan "Spinx" Giladi (Vitality)
19.
Yuri "yuurih" Santos (FURIA)
20.
Dzhami "Jame" Ali (Outsiders)
Origin: www.hltv.org