rain ranks 13th in HLTV.org's Top 20 players of 2022
Håvard "⁠rain⁠" Nygaard placed thirteenth in HLTV.org's Top 20 players of 2022 ranking. The 28-year-old Norwegian esports athlete has spent the past year under the auspices of FaZe.
rain's achievements include victories at IEM Katowice 2022, ESL Pro League Season 15, PGL Major Antwerp 2022 and IEM Cologne 2022. He finished the Major victorious for FaZe as the MVP and was named an exceptionally valuable player (EVP) at three other big events.
Nygaard averaged a 1.09 rating in 2022. Among various statistical indicators, the experienced Norwegian stood out with 0.14 opening kills per round, which is the 6th best result among all representatives of the pro scene.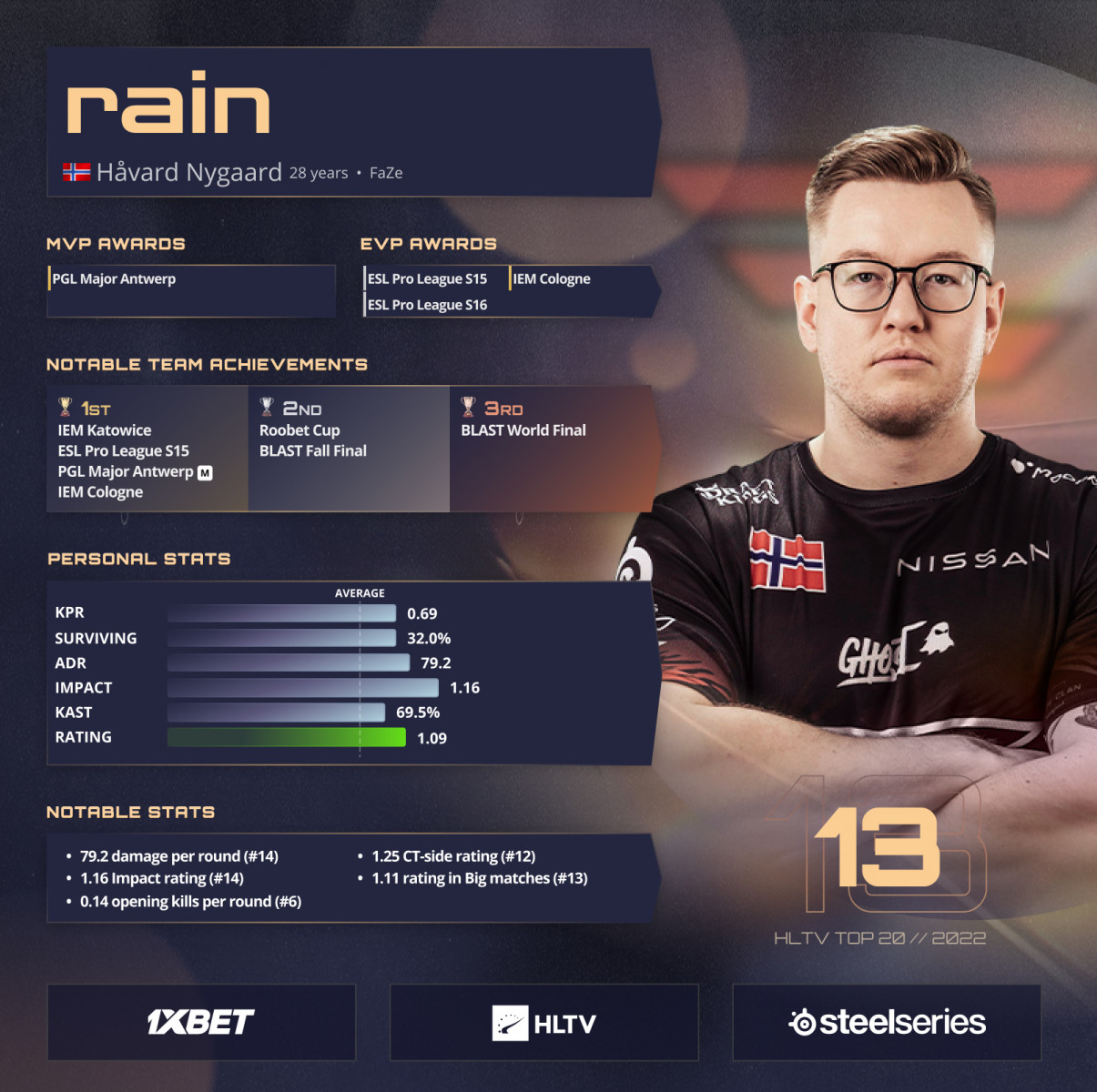 The list of the top 20 players of the past year will be published every day until January 14. The player coming in at twelfth place will be revealed tomorrow, January 5, at 22:00 MSK.
---
The top 20 players in the world in 2022 according to HLTV.org are as follows:
13.
Håvard "⁠rain⁠" Nygaard (FaZe)
14.
Nemanja "huNter-" Kovač (G2)
15.
Mareks "YEKINDAR" Galinskis (Liquid)
16.
Valeriy "b1t" Vakhovskiy (NAVI)
17.
David "⁠frozen⁠" Čerňanský (MOUZ)
18.
Lotan "Spinx" Giladi (Vitality)
19.
Yuri "yuurih" Santos (FURIA)
20.
Dzhami "Jame" Ali (Outsiders)
Origin: www.hltv.org