Astralis take first place in Group A at BLAST Premier Fall Groups 2022
Astralis have won Group A at BLAST Premier Fall Groups 2022, which secured them the best possible seed in the next stage of the tournament. After the opening loss to NIP, Lukas "gla1ve" Rossander's squad was knocked down to the lower bracket, where they defeated OG (16:9 on Mirage) and NIP (16:9 on Ancient), while in the final match of the quartet got the better of Vitality (19:17 on Mirage).
Following Astralis and Vitality, who finished Group A in first and second places, respectively, are NIP and OG, with the latter having lost two consecutive matches. Based on the results shown, all these participants will get their opponents in the Gauntlet stage, which will begin on Thursday, August 25, and will be held in a best-of-three Single Elimination format.
The Group A final bracket is: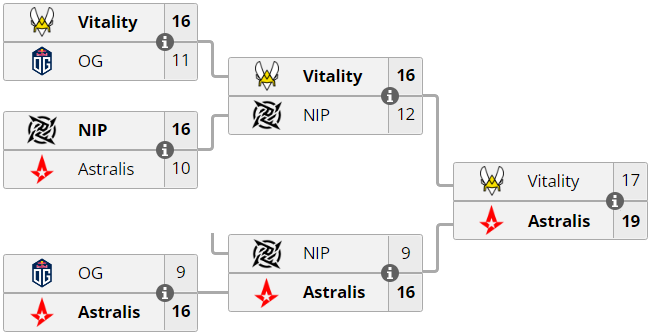 The full schedule, up-to-date results and live broadcast of BLAST Premier Fall Groups 2022 are available on the tournament's page on our website via this link.