forZe, 9z, MOUZ, ENCE and Astralis start Roobet Cup 2022 with victories
The second matchday of Roobet Cup 2022 has come to an end. forZe, 9z, MOUZ, ENCE and Astralis have gotten off to a flying start after winning their debut games.
The first of all the meetings was the postponed match between Astralis and Movistar Riders in Group B. The Danish team clinched a victory on two maps – 16:14 on Mirage and 16:8 on Overpass.
In Group C, ENCE defeated Eternal Fire 2:1 – 19:17 on Dust2, 10:16 on Nuke and 16:11 on Vertigo. Another match of this quartet saw MOUZ taking over Imperial in a two-map affair – 16:11 on Nuke and 16:7 on Inferno.
Following the first matchday, forZe and 9z take the lead in Group D. The Russians bested their countrymen from Outsiders 2:1 – 6:16 on Dust2, 16:13 on Inferno and 16:12 on Ancient. In turn, the South Americans came out on top of FURIA 2:0 – 22:20 on Overpass and 16:10 on Inferno.
The current group stage standings: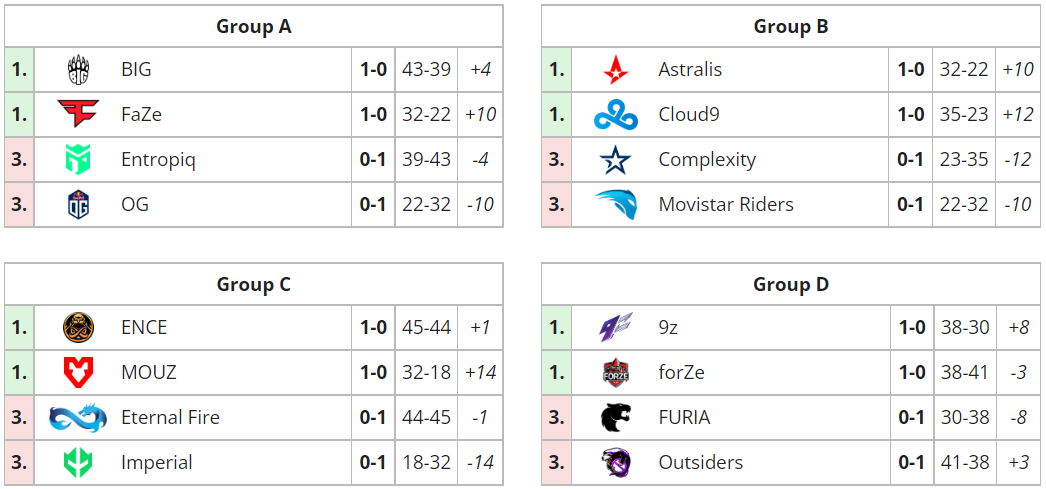 The full schedule, up-to-date results and live broadcast of Roobet Cup 2022 are available on the event's page on our website via this link.