Valve release PGL Major Antwerp 2022 stickers and Pick'Em Challenge
In the May 4 CS:GO update, PGL Major Antwerp 2022-related content has been added to the game. The developers introduced stickers of teams-participating, including a new "glitter" variant, and a Viewer Pass, which is available for purchase with Pick'Em Challenge, free graffities and emojis during the event.
There are two versions of a Viewer Pass available for purchase: regular ($9.99) and extended ($17.99), which includes three additional tokens required to receive souvenir packages.
All kinds of cosmetic team items (Team Spirit as an example):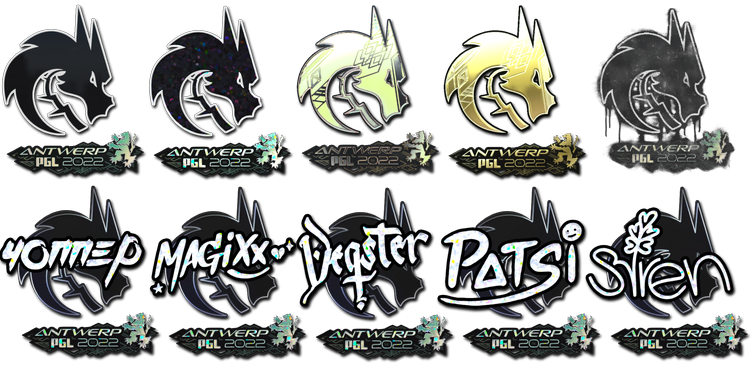 Half of the money from the sales of Passes and team capsules will be distributed among the teams taking part in the Major.
---
The full list of changes introduced in the May 4 update:
[ANTWERP 2022 CS:GO MAJOR CHAMPIONSHIP]
– The "Antwerp 2022 Viewer Pass" and the "Antwerp 2022 Viewer Pass + 3 Souvenir Tokens" are now available for purchase. 50% of the proceeds go to the players, teams, and organizations taking part in the PGL Antwerp 2022 CS:GO Major Championship.
– With a Viewer Pass, you'll get: an upgradable Antwerp 2022 Event Coin, access to the Antwerp Pick'Em Challenge, unlimited team graffiti for the duration of the event, Steam.tv team flair, access to Antwerp 2022 Souvenir Packages.
– Team stickers and Player Autograph stickers are available for purchase.
[MAPS]
Climb
– Fixed reduced buyzone in T spawn.
Ember
– Geyser at Construction now pushes the player upwards with less force.
– Fixed bug with crates and geysers giving the player insanely high velocity.
– Fixed finishing warmup inside the elevator stopping the player from jumping.
– Fixed a plethora of minor bugs.
Origin: blog.counter-strike.net