NAVI beat AGO at EPL S15 after one of CS:GO history's longest maps
The second map of the meeting between NAVI and AGO in Group C at ESL Pro League Season 15 has become one of the longest in the history of the professional CS:GO scene, ESL representatives announced on Twitter.
In total, the teams played 71 rounds on Mirage, following which Alexandr "s1mple" Kostyliev's squad closed out the game 37-34. After the successful first map (Dust2, 16:1), Natus Vincere managed to defeat their opponents without dropping a map 2:0.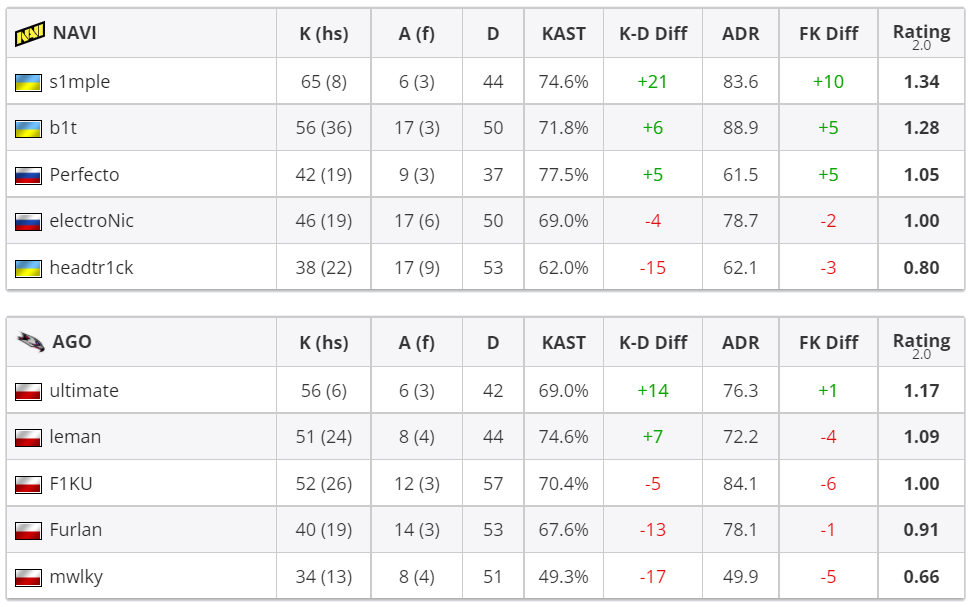 The statistics of NAVI and AGO players on Mirage
Thus, the match between NAVI and AGO ranks fourth in the ESL's list of the longest maps ever played on the competitive level. The top 4 also features:
exceL – XENEX, турнир UK Nation Championship 2015, 88 rounds.
DenDD – Pixel Fire, MLG Columbus Minor 2016, 79 rounds.
GUNRUNNERS – eSuba, Czech National Championship, 72 rounds.
NAVI – AGO, ESL Pro League Season 15, 71 round.
Tomorrow, March 31, at 13:30 MSK, AGO will continue their run in the ongoing EPL season with a match against Complexity. In turn, NAVI will face off against Evil Geniuses at 20:30 MSK.
Origin: twitter.com