electroNic ranks 7th in HLTV's top 20 players of 2021
HLTV.org has named Denis "electroNic" Sharipov the seventh best player in 2021. Together with Valeriy "b1t" Vakhovskiy, the Russian became the second Natus Vincere member to make it into the prestigious list.
Throughout 2021, Sharipov helped NAVI win eight big tournaments, including PGL Major Stockholm 2021. His individual level was recognized by nine EVP titles, which are awarded to exceptionally valuable players.
Following 2021, an individual rating of electroNic amounted to 1.14. At the same time, at big events, this number increased to 1.21, the fifth among all professional players.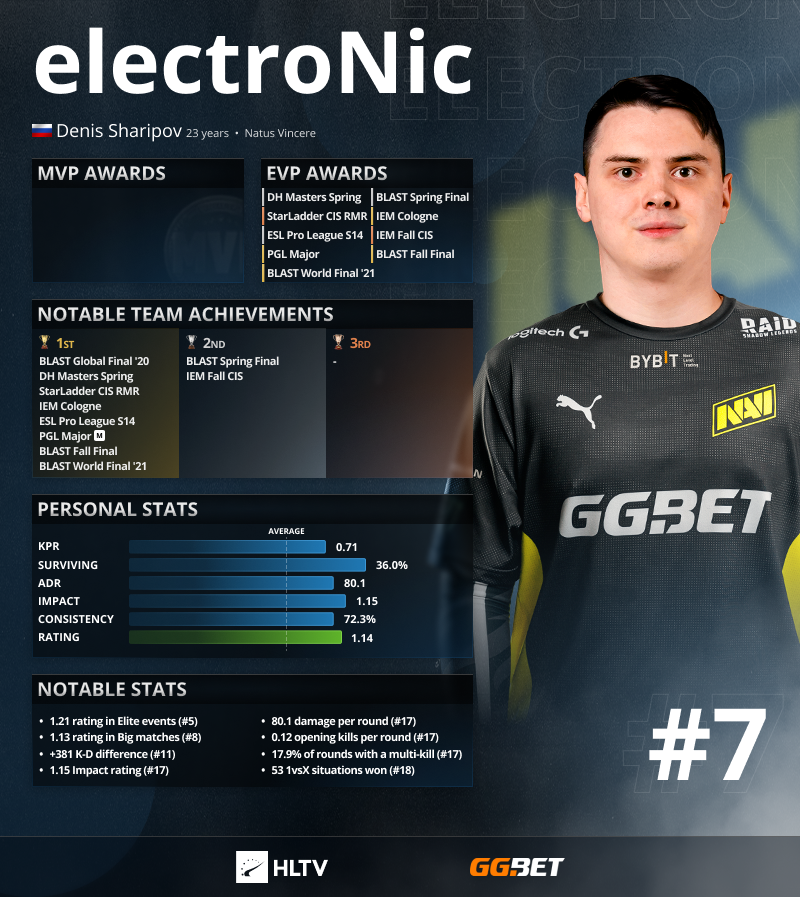 The list of the best players of the past year will be updated every day from January 3 to 22, 2022. Tomorrow, January 17, the authors will name the player to place 6th.
---
The top 20 best players in the world in 2021 according to HLTV.org:
7.
Denis "electroNic" Sharipov
8.
Mareks "YEKINDAR" Galinskis
9.
Valeriy "b1t" Vakhovskiy
10.
Dzhami "Jame" Ali
11.
Nikolai "device" Reedtz
12.
Nemanja "⁠huNter-⁠" Kovač
13.
Benjamin "⁠blameF⁠" Bremer
14.
Keith "NAF" Markovic
15.
Kaike "KSCERATO" Cerato
16.
Martin "stavn" Lund
17.
Russel "Twistzz" van Dulken
18.
Robin "ropz" Kool
19.
Jonathan "EliGE" Jablonowski
20.
Helvijs "broky" Saukants
Origin: www.hltv.org