YEKINDAR ranks 8th in HLTV's top 20 players of 2021
Mareks "YEKINDAR" Galinskis took the eight spot on the list of the best players of 2021 by HLTV.org. Following Dzhami "Jame" Ali, he became the second player of Virtus.pro to make it to the prestigious ranking.
Last year, the Latvian helped his team win cs_summit 7, as well as enter the top 4 at such big international events as IEM Katowice 2021 and IEM Winter 2021. He was also recognized as an exceptionally valuable player (EVP) four times.
Ending the year with an individual rating of 1.14, Galinskis also stood out in opening kills per round (0.16, second in the world) and average damage per round (84.5, third in the world).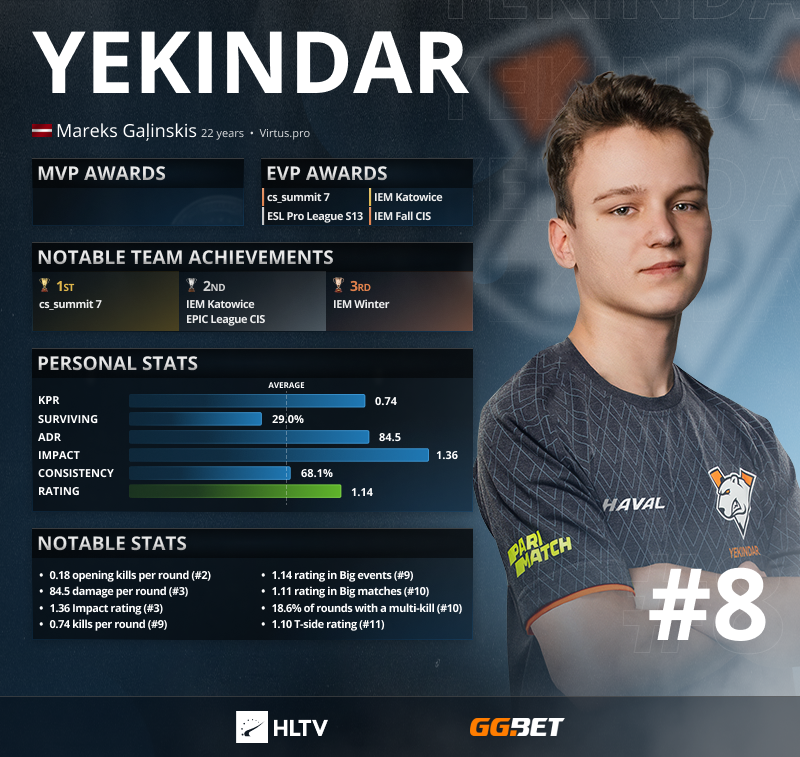 The list of the best players of the past year will be updated every day from January 3 to 22, 2022. Tomorrow, January 16, the authors will name the player to place 7th.
---
The top 20 best players in the world in 2021 according to HLTV.org:
8.
Mareks "YEKINDAR" Galinskis
9.
Valeriy "b1t" Vakhovskiy
10.
Dzhami "Jame" Ali
11.
Nikolai "device" Reedtz
12.
Nemanja "⁠huNter-⁠" Kovač
13.
Benjamin "⁠blameF⁠" Bremer
14.
Keith "NAF" Markovic
15.
Kaike "KSCERATO" Cerato
16.
Martin "stavn" Lund
17.
Russel "Twistzz" van Dulken
18.
Robin "ropz" Kool
19.
Jonathan "EliGE" Jablonowski
20.
Helvijs "broky" Saukants
Origin: www.hltv.org