device ranks 11th in HLTV's top 20 players of 2021
Nikolai "device" Reedtz has become the eleventh best player in 2021 according to HLTV.org. For most of the past year, the 26-year-old Dane represented NIP, where he moved from Astralis.
Among the most notable achievements of Reedtz are the championship title of IEM Fall 2021 Europe and second places of BLAST Premier Global Final 2020, Flashpoint 3 and IEM Winter 2021. The eminent AWPer was recognized as the best player of the LAN-event, which the Ninjas won.
An average rating of device in 2021 amounted to 1.14. Besides, the member of NIP ended up among the best players by several other statistical indicators, including impact (7th place), the K-D difference (8th place) and the percentage of successful opening duels (9th place).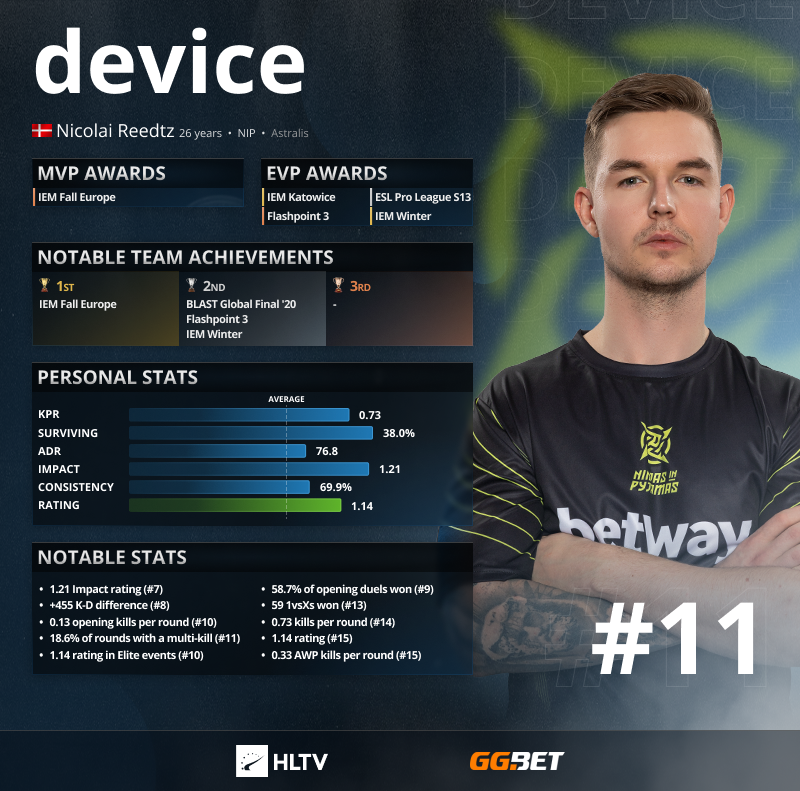 The list of the best players of the past year will be updated every day from January 3 to 22, 2022. Tomorrow, January 13, the authors will name the player to place 10th.
---
The top 20 best players in the world in 2021 according to HLTV.org:
11.
Nikolai "device" Reedtz
12.
Nemanja "⁠huNter-⁠" Kovač
13.
Benjamin "⁠blameF⁠" Bremer
14.
Keith "NAF" Markovic
15.
Kaike "KSCERATO" Cerato
16.
Martin "stavn" Lund
17.
Russel "Twistzz" van Dulken
18.
Robin "ropz" Kool
19.
Jonathan "EliGE" Jablonowski
20.
Helvijs "broky" Saukants
Origin: www.hltv.org