huNter- ranks 12th in HLTV's top 20 players of 2021
Bosnian Nemanja "⁠huNter-⁠" Kovač has found himself on twelfth position in the list of the best players of 2021 by HLTV.org. Thus, the esports athlete became the first member of G2 to make it into the ranking.
Together with his team, huNter- did not win a single tournament, but at the same time eight times entered the top-4 at big events. The rifler's individual contribution to the team success has been backed up by five EVP medals for IEM Summer 2021, IEM Cologne 2021, IEM Fall 2021 for Europe, PGL Major Stockholm 2021 and IEM Winter 2021.
Kovač finished 2021 with an average rating of 1.11. Among other things, the authors of the ranking noted his percentage of rounds with a multi-kill (19.1%), the 5th on the professional scene.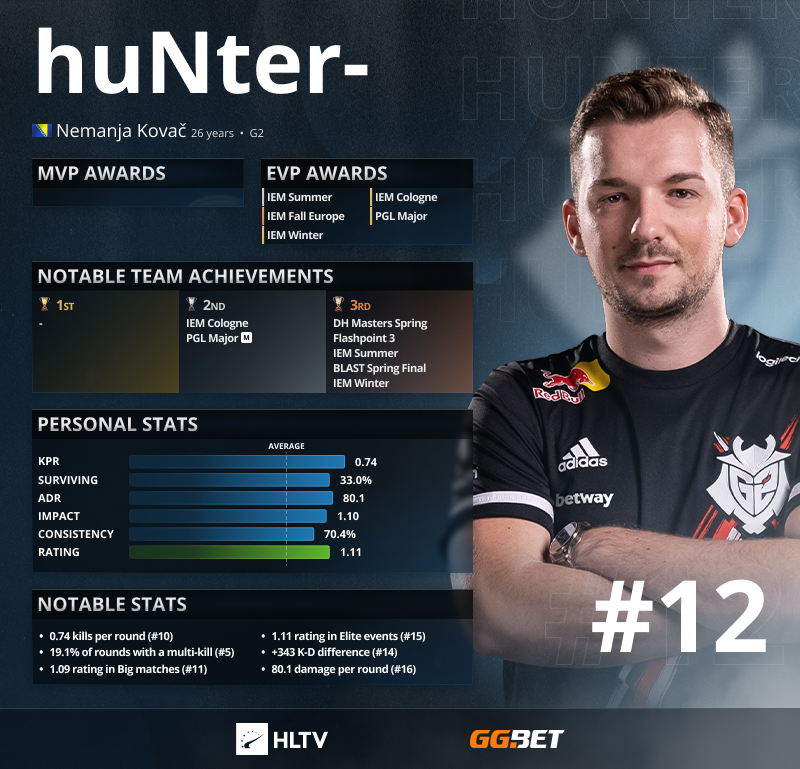 The list of the best players of the past year will be updated every day from January 3 to 22, 2022. Tomorrow, January 12, the authors will name the player to place 11th.
---
The top 20 best players in the world in 2021 according to HLTV.org:
12.
Nemanja "⁠huNter-⁠" Kovač
13.
Benjamin "⁠blameF⁠" Bremer
14.
Keith "NAF" Markovic
15.
Kaike "KSCERATO" Cerato
16.
Martin "stavn" Lund
17.
Russel "Twistzz" van Dulken
18.
Robin "ropz" Kool
19.
Jonathan "EliGE" Jablonowski
20.
Helvijs "broky" Saukants
Origin: www.hltv.org