ESL Pro League Season 18 viewer's guide
From August 30 to October 1, Malta will host a prestigious LAN tournament – ESL Pro League Season 18. At the tournament , 32 rosters will compete for a prize pool of $850,000, as well as invites to IEM Katowice 2024 and BLAST Premier World Final 2023 for the winner.
The group stage of the event will play out a in Triple Elimination BO3 format. The winners of the groups will kick off the playoffs from the quarter-finals, the runner-ups from the Round of 16, while the teams that secure third and fourth places will advance to the Round of 32.
The ESL Pro League Season 18 playoffs will be held in a Single Elimination best-of-three format with a BO5 final.
The group stage seeding looks as follows:
Group A
Vitality (apEX, Magisk, ZywOo, flameZ, Spinx)

GamerLegion (isak, acoR, Keoz, neaLaN, volt)

FURIA (arT, yuurih, KSCERATO, FalleN, chelo)

NIP (k0nfig, REZ, hampus, Brollan, headtr1ck)

Astralis (device, b0RUP, blameF, Staehr, Buzz)

Movistar Riders (mopoz, alex, dav1g, Martinez, JUST)

Grayhound (Sico, INS, aliStair, Liazz, Vexite)

ORKS (olimp, sNx, mwlky, Vegi, HS)
Group A bracket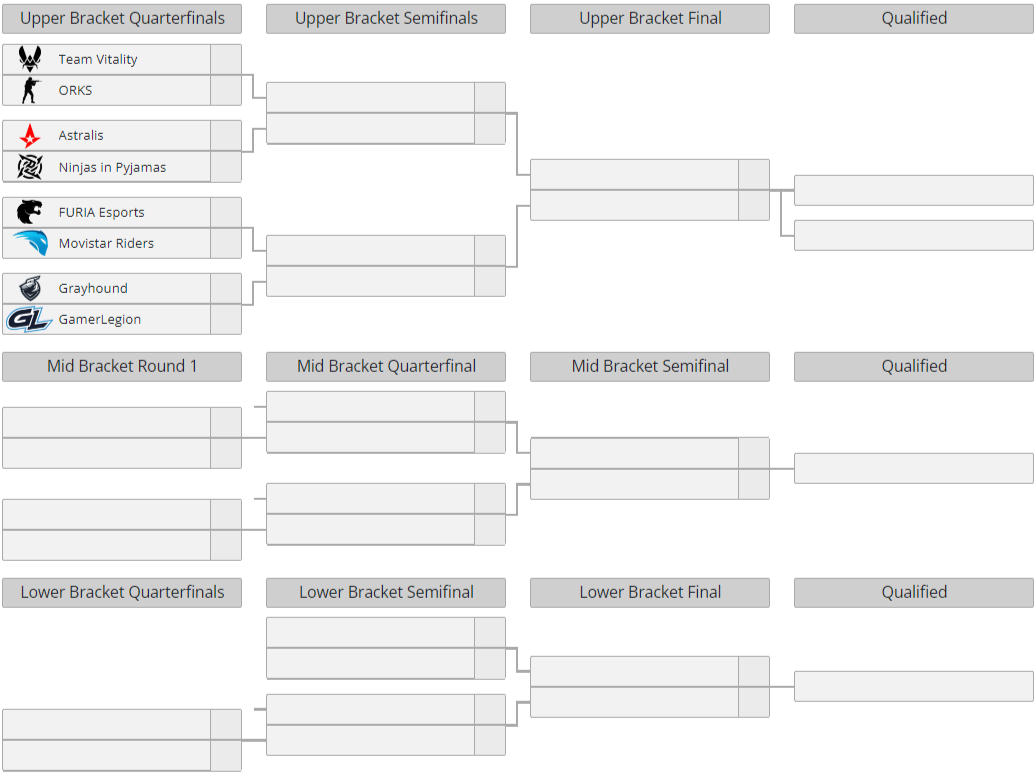 Group B
Heroic (cadiaN, stavn, TeSeS, sjuush, jabbi)

ENCE (Snappi, Maden, dycha, SunPayus, NertZ)

MOUZ (frozen, torzsi, xertioN, siuhy, Jimpphat)

Monte (Woro2k, DemQQ, kRaSnaL, sdy, br0)

BIG (tabseN, prosus, Krimbo, s1n, mantuu)

MIBR (exit, brnz4n, insani, drop, saffee)

Evil Geniuses (autimatic, junior, Walco, HexT, Jeorge)

Rooster (chelleos, asap, TjP, ADK, nettik)
Group B bracket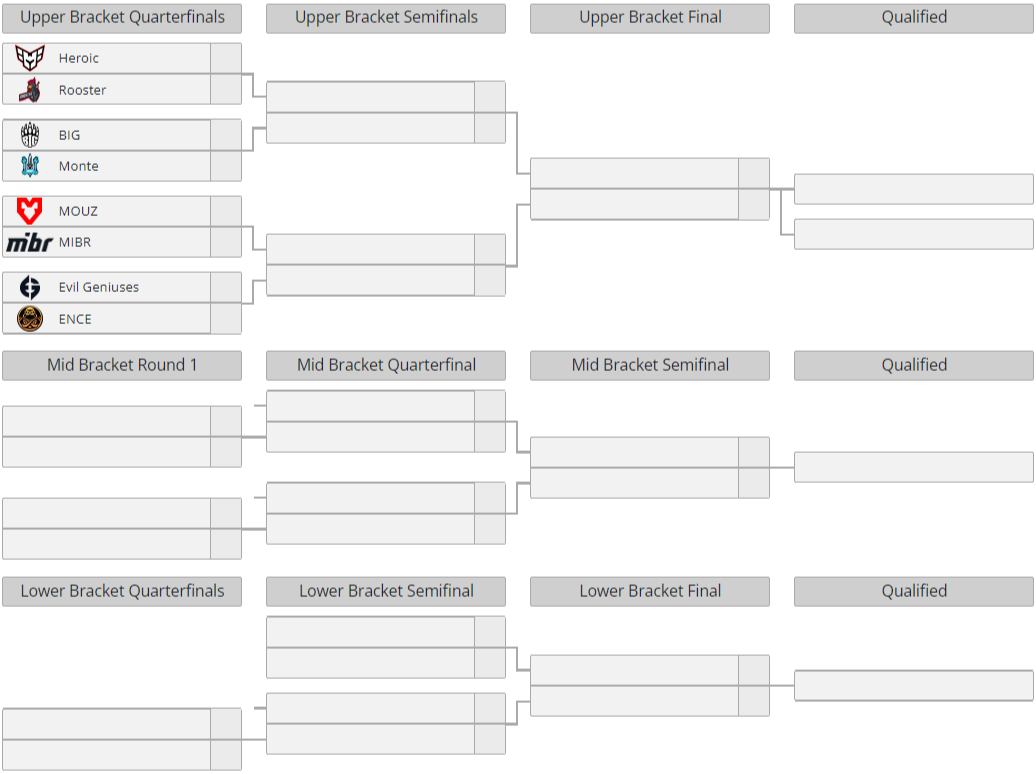 Group C
FaZe (karrigan, rain, Twistzz, ropz, broky)

NAVI (s1mple, Aleksib, iM, b1t, jL)

Apeks (nawwk, jkaem, STYKO, kyxsan, CacaNito)

fnatic (KRIMZ, mezii, roeJ, dexter, afro)

Imperial (boltz, VINI, JOTA, HEN1, felps)

M80 (Swisher, reck, WolfY, malbsMd, maNkz⁠)

5yclone (advent, kaze, JamYoung, Moseyuh, Mercury)

9z (dgt, max, dav1deuS, buda, try)
Group C bracket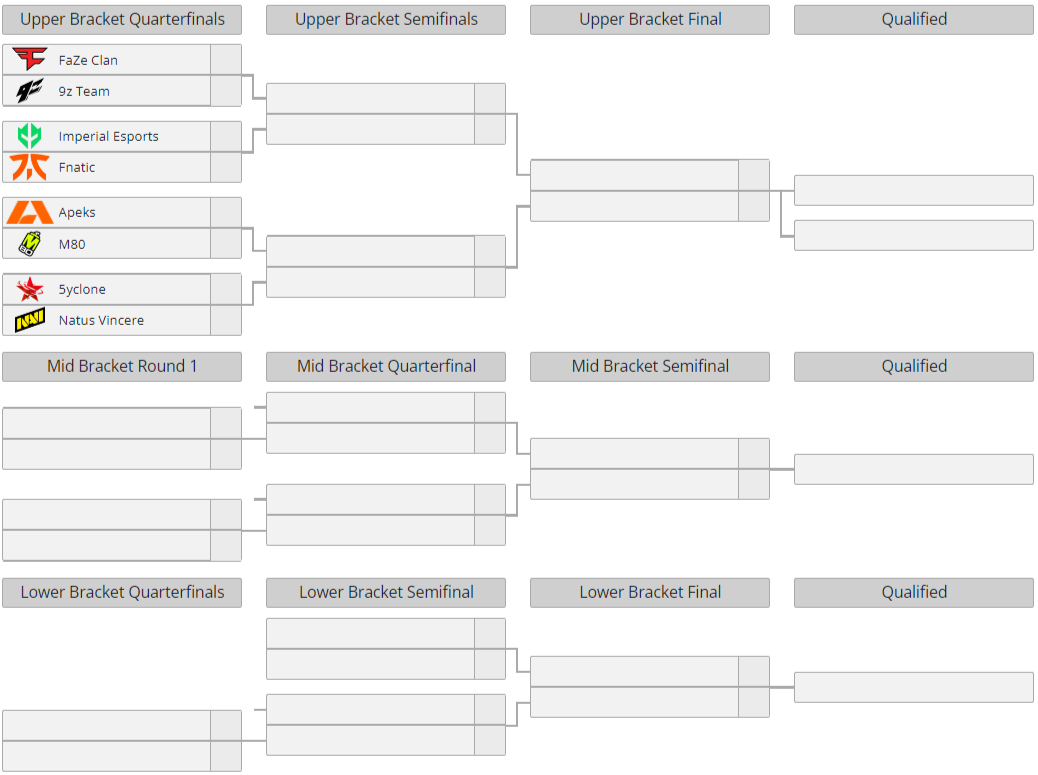 Group D
Cloud9 (HObbit, Ax1Le, sh1ro, electroNic, Perfecto)

G2 (NiKo, huNter-, jks, HooXi, m0NESY)

Liquid (NAF, oSee, YEKINDAR, Rainwaker, Patsi)

9INE (Goofy, KEi, Kylar, mynio, hades)

Complexity (EliGE, JT, floppy, hallzerk, Grim)

Virtus.pro (Jame, FL1T, fame, mir, n0rb3r7)

Lynn Vision (westmelon, z4kr, Starry, Emilia, Jee)

Eternal Fire (XANTARES, MAJ3R, Calyx, Wicadia, woxic)
Group D bracket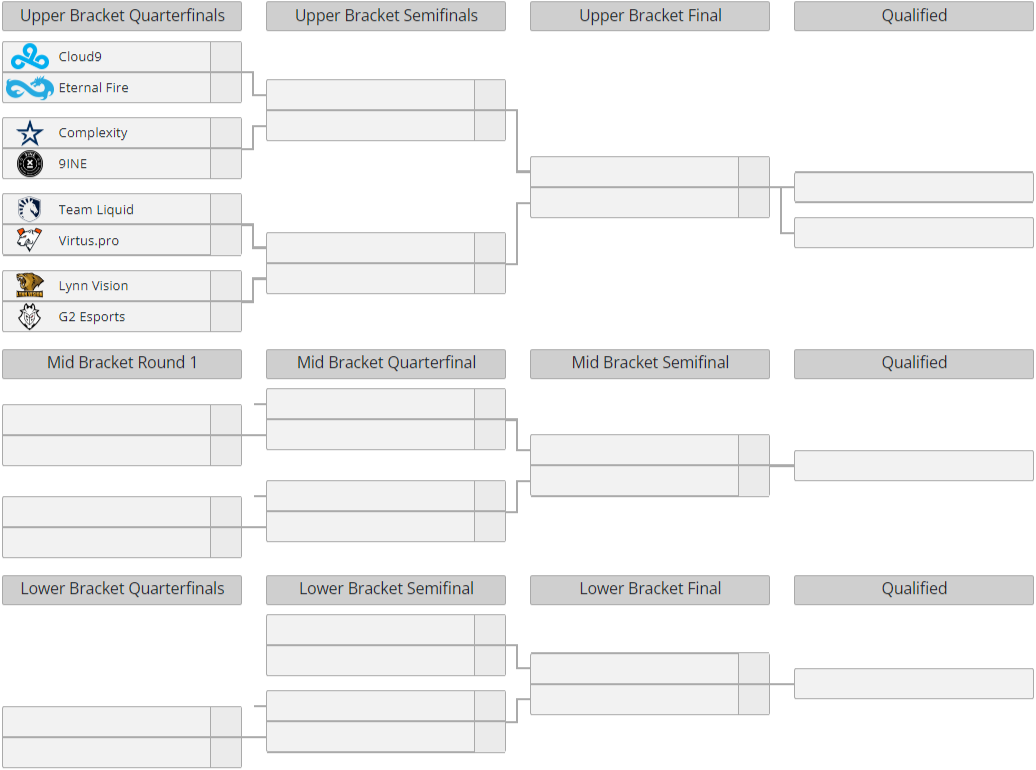 The group stage schedule is:
Group A – August 30 - September 3
Group B – September 6-10
Group C – September 13-17
Group D – September 20-24
The prize pool distribution is:
1. $200,000 + IEM Katowice 2024 and BLAST Premier World Final 2023 slots
2. $90,000
3-4. $50,000
5-8. $35,000
9-12. $25,000
13-16. $20,000
17-20. $15,000
21-28. $8,000
29-32. $4,000
The full schedule and live broadcasts of ESL Pro League Season 18 can be found on the tournament page on our website via this link.