m0NESY ranks 7th in HLTV.org's Top 20 players of 2022
G2's AWPer Ilya "m0NESY" Osipov placed seventh in the ranking of the best players of 2022 according to HLTV.org. After Nemanja "huNter-" Kovač, he became the second representative of the European tram to make the prestigious list.
Last year, which marked the Russian's debut in the tier-1 scene, he helped his team win BLAST Premier World Final 2022, as well as make the top 4 at such big international events as IEM Katowice 2022, BLAST Premier Spring Final 2022 and ESL Pro League Season 16. Osipov also earned one MVP (the best player of a tournament) and two EVP (an exceptionally valuable player) awards.
Having ended the year with a 1.17 rating, m0NESY stood out in several statistics. Among other things, he emerged as the best player in the world in terms of the percentage of opening duels won – 64.3%.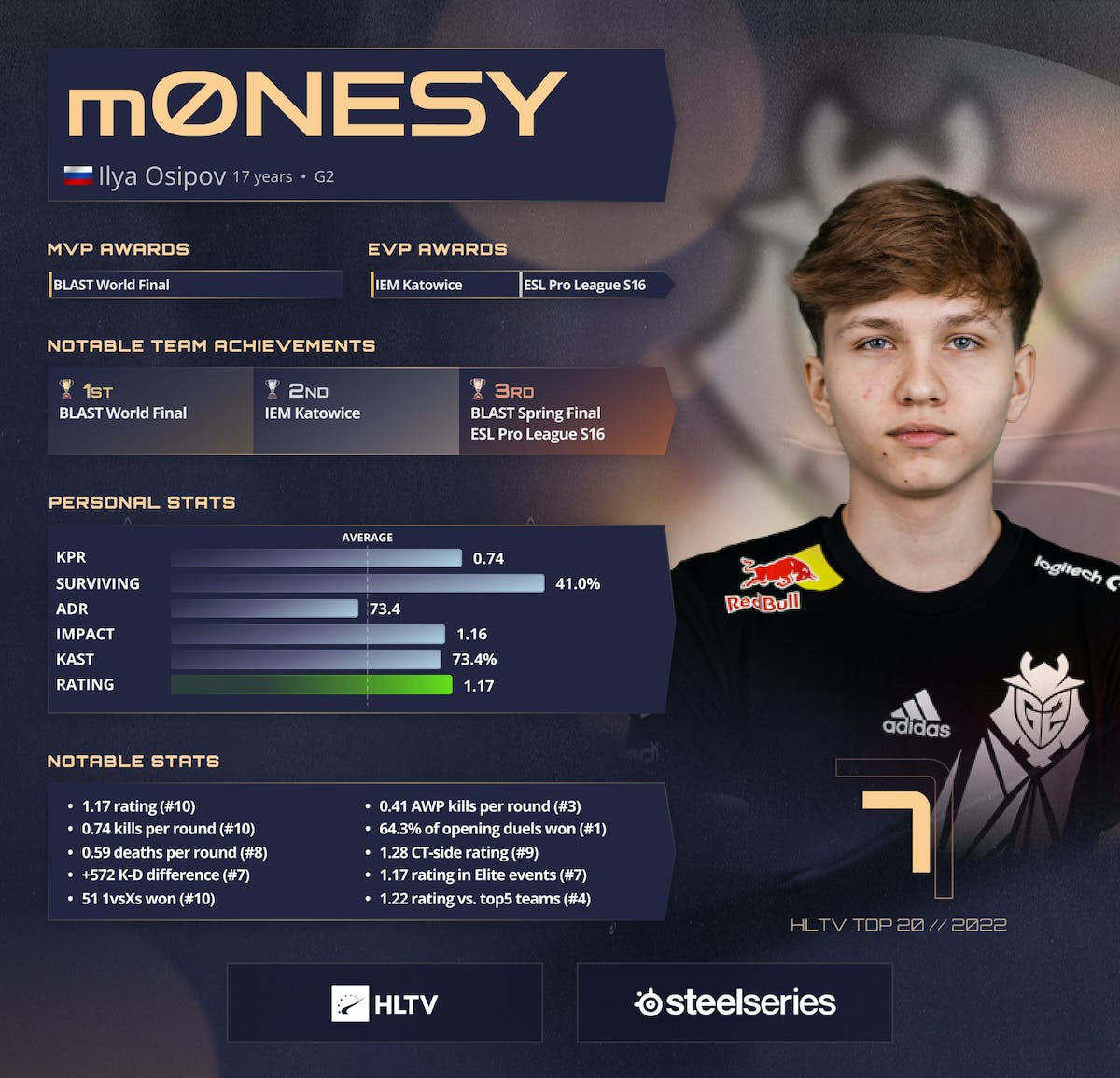 The list of the top 20 players of the past year will be published every day until January 14. The player coming in at sixth place will be revealed tomorrow, January 11, at 22:00 MSK.
---
The Top 20 players in the world in 2022 according to HLTV.org are as follows:
7.
Ilya "m0NESY" Osipov (G2)
8.
Robin "ropz" Kool (FaZe)
9.
Kaike "KSCERATO" Cerato (FURIA)
10.
Martin "stavn" Lund (Heroic)
11.
Russel "Twistzz" Van Dulken (FaZe)
12.
Benjamin "blameF" Bremer (Astralis)
13.
Håvard "⁠rain⁠" Nygaard (FaZe)
14.
Nemanja "huNter-" Kovač (G2)
15.
Mareks "YEKINDAR" Galinskis (Liquid)
16.
Valeriy "b1t" Vakhovskiy (NAVI)
17.
David "⁠frozen⁠" Čerňanský (MOUZ)
18.
Lotan "Spinx" Giladi (Vitality)
19.
Yuri "yuurih" Santos (FURIA)
20.
Dzhami "Jame" Ali (Outsiders)
Origin: www.hltv.org