Twistzz ranks 11th in HLTV.org's Top 20 players of 2022
Canadian esports athlete Russel "Twistzz" Van Dulken lands in eleventh place on HLTV.org's top 20 players list for 2022. After Håvard "rain" Nygaard, he became the second FaZe member to make the prestigious list.
Last year, Van Dulken helped his team win four titles: IEM Katowice 2022, ESL Pro League Season 15, PGL Major Antwerp 2022 and IEM Cologne 2022. That said, he earned seven exceptionally valuable player (EVP) awards at elite events.
In 2022, Twistzz recorded a 1.12 rating. Among other things, HLTV.org authors highlighted the aim accuracy of the Canadian, who averaged 0.41 headshots per round, which makes him third best in the world in this respect.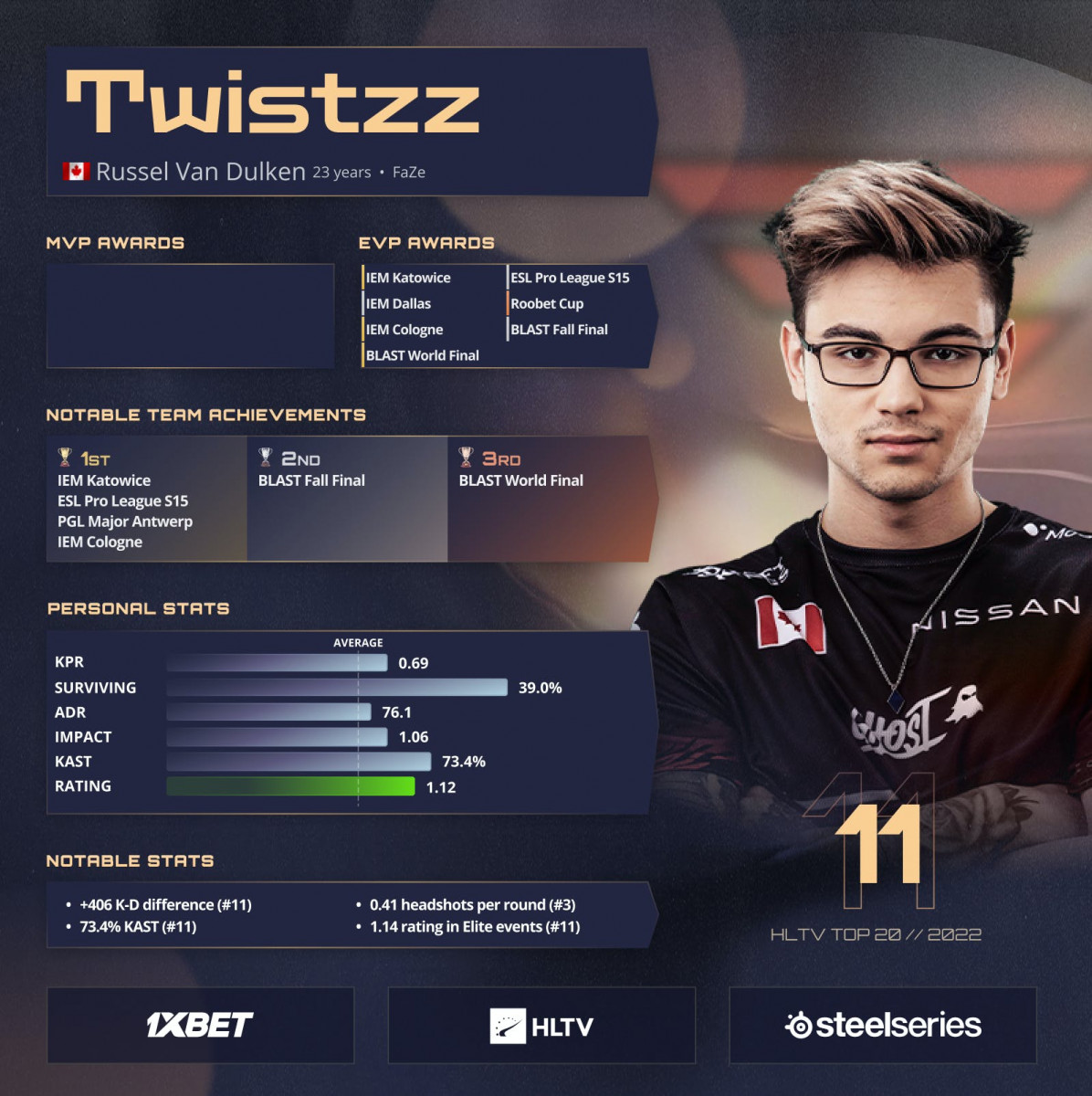 The list of the top 20 players of the past year will be published every day until January 14. The player coming in at tenth place will be revealed tomorrow, January 7, at 22:00 MSK.
---
The top 20 players in the world in 2022 according to HLTV.org are as follows:
11.
Russel "Twistzz" Van Dulken (FaZe)
12.
Benjamin "blameF" Bremer (Astralis)
13.
Håvard "⁠rain⁠" Nygaard (FaZe)
14.
Nemanja "huNter-" Kovač (G2)
15.
Mareks "YEKINDAR" Galinskis (Liquid)
16.
Valeriy "b1t" Vakhovskiy (NAVI)
17.
David "⁠frozen⁠" Čerňanský (MOUZ)
18.
Lotan "Spinx" Giladi (Vitality)
19.
Yuri "yuurih" Santos (FURIA)
20.
Dzhami "Jame" Ali (Outsiders)
Origin: www.hltv.org