blameF ranks 12th in HLTV.org's Top 20 players of 2022
HLTV.org has put Benjamin "blameF" Bremer in the twelfth spot in its ranking of the best players in the world in 2022. The member of Astralis thus becomes the first Dane to be featured in the prestigious list.
Throughout 2022, blameF, along with Astralis, did not manage to win any tournament, with the team's best achievement being making the top 4 at IEM Cologne 2022, Roobet Cup 2022 and Pinnacle Cup Championship 2022. The individual level of the Danes' leader was honored by three EVPs, which are awarded to exceptionally valuable players of a tournament.
Last year, Bremer averaged a 1.22 rating. That said, he recorded the highest CT-rating in the pro scene – 1.35.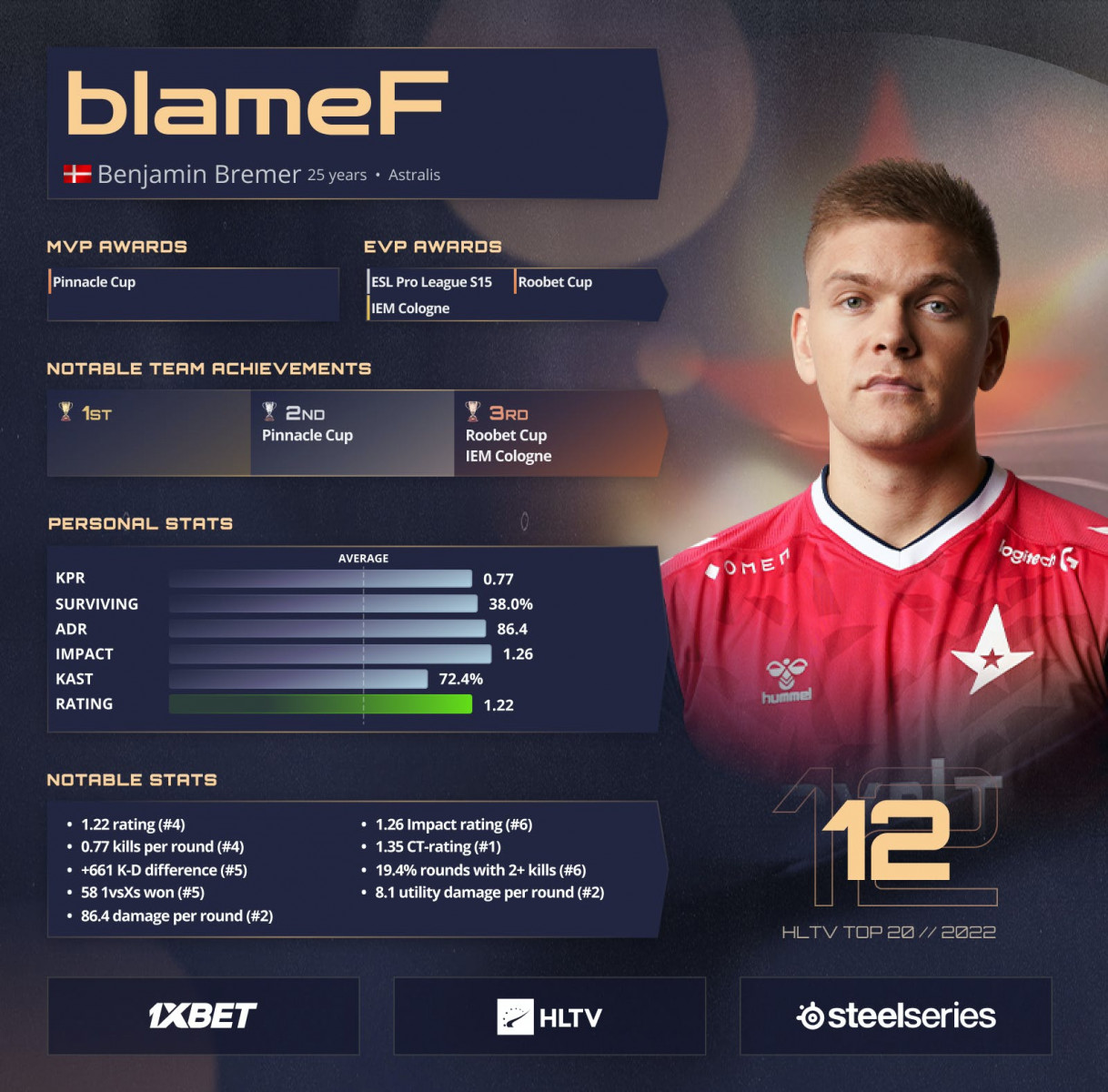 The list of the top 20 players of the past year will be published every day until January 14. The player coming in at eleventh place will be revealed tomorrow, January 6, at 22:00 MSK.
---
The top 20 players in the world in 2022 according to HLTV.org are as follows:
12.
Benjamin "blameF" Bremer (Astralis)
13.
Håvard "⁠rain⁠" Nygaard (FaZe)
14.
Nemanja "huNter-" Kovač (G2)
15.
Mareks "YEKINDAR" Galinskis (Liquid)
16.
Valeriy "b1t" Vakhovskiy (NAVI)
17.
David "⁠frozen⁠" Čerňanský (MOUZ)
18.
Lotan "Spinx" Giladi (Vitality)
19.
Yuri "yuurih" Santos (FURIA)
20.
Dzhami "Jame" Ali (Outsiders)
Origin: www.hltv.org