s1mple leads IEM Cologne 2022 MVP race
NAVI's AWPer Alexandr "s1mple" Kostyliev is the main contender for the title of the most valuable player of IEM Cologne 2022 according to HLTV.org, the consultant of the reputable CS:GO site Petar Milovanovic has tweeted.
In the run-up to the grand final of the prestigious tournament between NAVI and FaZe, Kostyliev is significantly ahead of all competitors in most statistical indicators. In particular, his average rating so far amounts to 1.34.
The HLTV.org consultant noted that besides s1mple, three players might also end up with the MVP medal: Russel "Twistzz" Van Dulken, Håvard "rain" Nygaard or Robin "ropz" Kool. To do this, one of them needs to put on a dominant performance in the decisive match, which will be held in a best-of-five format.
Milovanovic also singled out Astralis' Benjamin "blameF" Bremer. According to the consultant, the Dane, who was eliminated at the semifinal stage, is now closer to the MVP title than any FaZe player.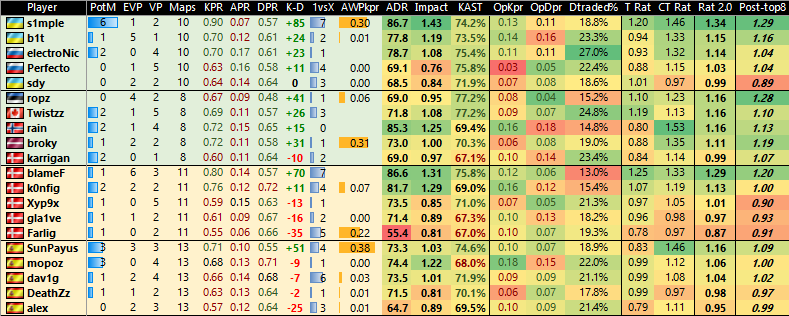 The NAVI – FaZe encounter is set to kick off today, July 17, at 17:00 MSK. Along with the title, the winner of IEM Cologne 2022 will bring home $400,000 from the total prize pool.
Origin: twitter.com