Cloud9, BIG, ENCE and forZe through to Roobet Cup 2022 playoffs
Following the results of the third matchday of Roobet Cup 2022, the first teams to make it to the playoffs of the big online event have been determined. Cloud9, BIG, ENCE and forZe have earned the tickets to the decisive stage as the winners of their groups.
Cloud9 and BIG took first place in Group A and B, respectively. In the promotion matches, Vladislav "nafany" Gorshkov's roster defeated Astralis (16:7 on Overpass and Mirage), while the Germans unexpectedly took over FaZe, who currently top the world rankings (16:14 on Dust2, 11:16 on Nuke and 16:12 on Overpass).
ENCE and forZe topped the quartets C and D, respectively. This happened after Marco "Snappi" Pfeiffer's squad came out on top of MOUZ (13:16 on Mirage, 16:8 on Nuke and 16:4 on Overpass), while the Russians clinched a victory over 9z (16:14 on Mirage and 16:9 on Dust2).
The current group stage standings: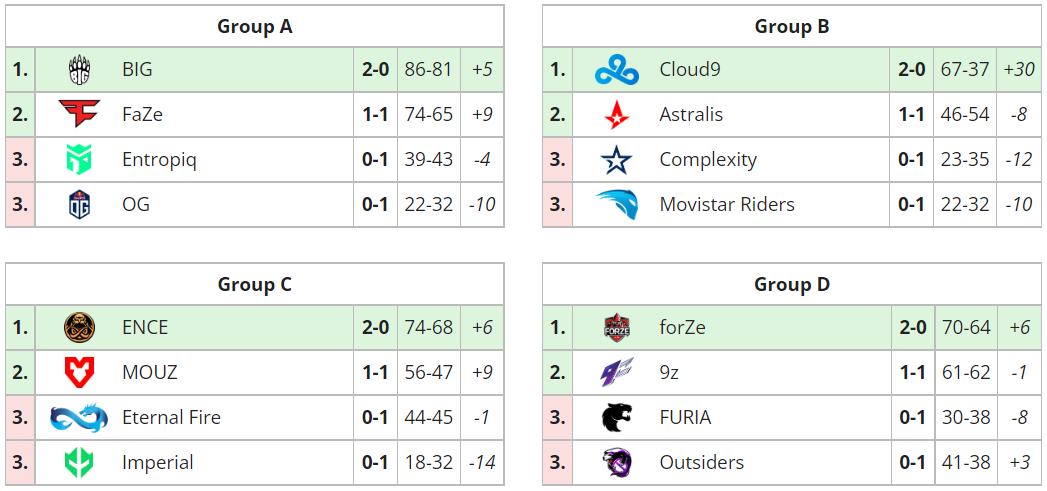 The full schedule, up-to-date results and live broadcast of Roobet Cup 2022 are available on the event's page on our website via this link.