New pro-scene record for number of rounds played in one match set
In the final of the Polish Esports League 2023 Split 2 online tournament, ThunderFlash and PGE Turow set a new record of the professional stage for the number of rounds played. In a BO5 match, the opponents played 173 rounds.
PGE Turow secured the victory with a scoreline of 3:2 – 16:19 on Vertigo, 16:14 on Ancient, 14:16 on Inferno, 22:20 on Anubis and 19:17 on Mirage. Notably, at the end of the match, nine out of ten players overcame the threshold of 100 kills.
ThunderFlash vs PGE Turow match statistics looks as follows: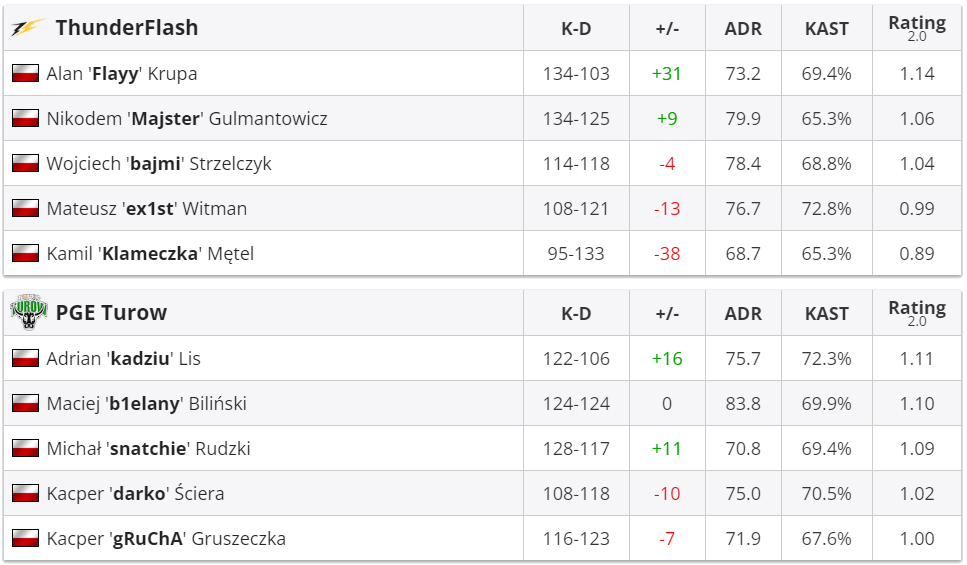 The previous record for the number of rounds played in one game was set in 2015 at the Acer Predator Masters LAN tournament in a match between MOUZ and HellRaisers. Then the teams played 164 rounds.
Top 10 professional matches with most rounds played are:
PGE Turow – ThunderFlash (Polish Esports League 2023 Split 2, 173 rounds)
MOUZ – HellRaisers (Acer Predator Masters 2015, 164 rounds)
TYLOO – Heroic (Toyota Master Bangkok 2018, 161 rounds)
Gambit – Heroic (ESL Pro League Season 13, 157 rounds)
Liquid – Vitality (ESL Pro League Season 16, 155 rounds)
0to100 – 4glory (Kuvo OneTap Winter 2022,154 rounds)
BIG Academy – ECLOT (Y-Games Pro Series 2022, 154 rounds)
Extra Salt – GODSENT (DreamHack Open September 2021, 154 rounds)
Vitality – Heroic (DreamHack Open Fall 2020, 154 rounds)
SK – Virtus.pro (EPICENTER, 2017, 151 rounds)
Origin: www.hltv.org