Vitality and Evil Geniuses win their opening matches at BLAST Premier Spring Groups 2023
The first matchday at BLAST Premier Spring Groups 2023 has come to a close, seeing Group A teams kickstart their campaigns. Vitality bested Astralis (16:12 on Overpass and 19:15 on Vertigo), while Evil Geniuses pulled off an upset against the world ranking leaders in Heroic (7:16 on Inferno, 16:14 on Ancient and 16:14 on Overpass).
Vitality and Evil Geniuses advanced through the Group A upper bracket, where on January 21 they will battle out a spot in the final of the quartet. On the very same day, Heroic and Astralis will face off to determine who will place fourth and start the next stage of the tournament having a worse seed.
Tomorrow, January 20, the ongoing BLAST event will continue with three matches. FaZe will take on Complexity at 14:00 MSK, the confrontation between Liquid and OG is scheduled to kick off at 17:00 MSK, while the G2 – BIG matchup will wrap up the matchday at 20:30 MSK.
The current Group A bracket looks as follows: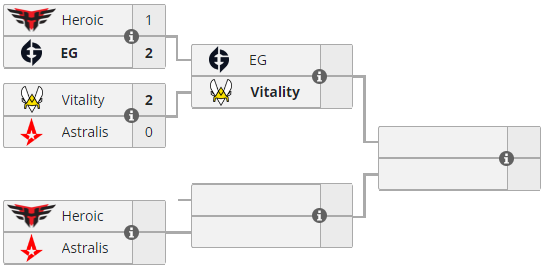 The full schedule, up-to-date results and live broadcast of BLAST Premier Spring Groups 2023 are available on the tournament's page on our website via this link.