broky⁠ ranks 6th in HLTV.org's Top 20 players of 2022
Helvijs "⁠broky⁠" Saukants has taken sixth place in the Top 20 players of 2022 list by HLTV.org. He is the fourth FaZe player to make an appearance in the prestigious ranking after Robin "ropz" Kool, Russel "Twistzz" Van Dulken and Håvard "rain" Nygaard.
With broky on board, the European squad were at the top of the competitive scene throughout the past year, becoming the champions of four tier-one events, including PGL Major Antwerp 2022. The individual contribution of the Latvian AWPer to the team's success earned him two Most Valuable Player (MVP) and four Exceptionally Valuable Player (EVP) awards.
Saukants ended 2022 with an average rating of 1.16 and appeared among the best players in the world by several statistics. Among other things, the authors of the Top 20 highlighted his leadership in the number of clutches won against one or more opponents.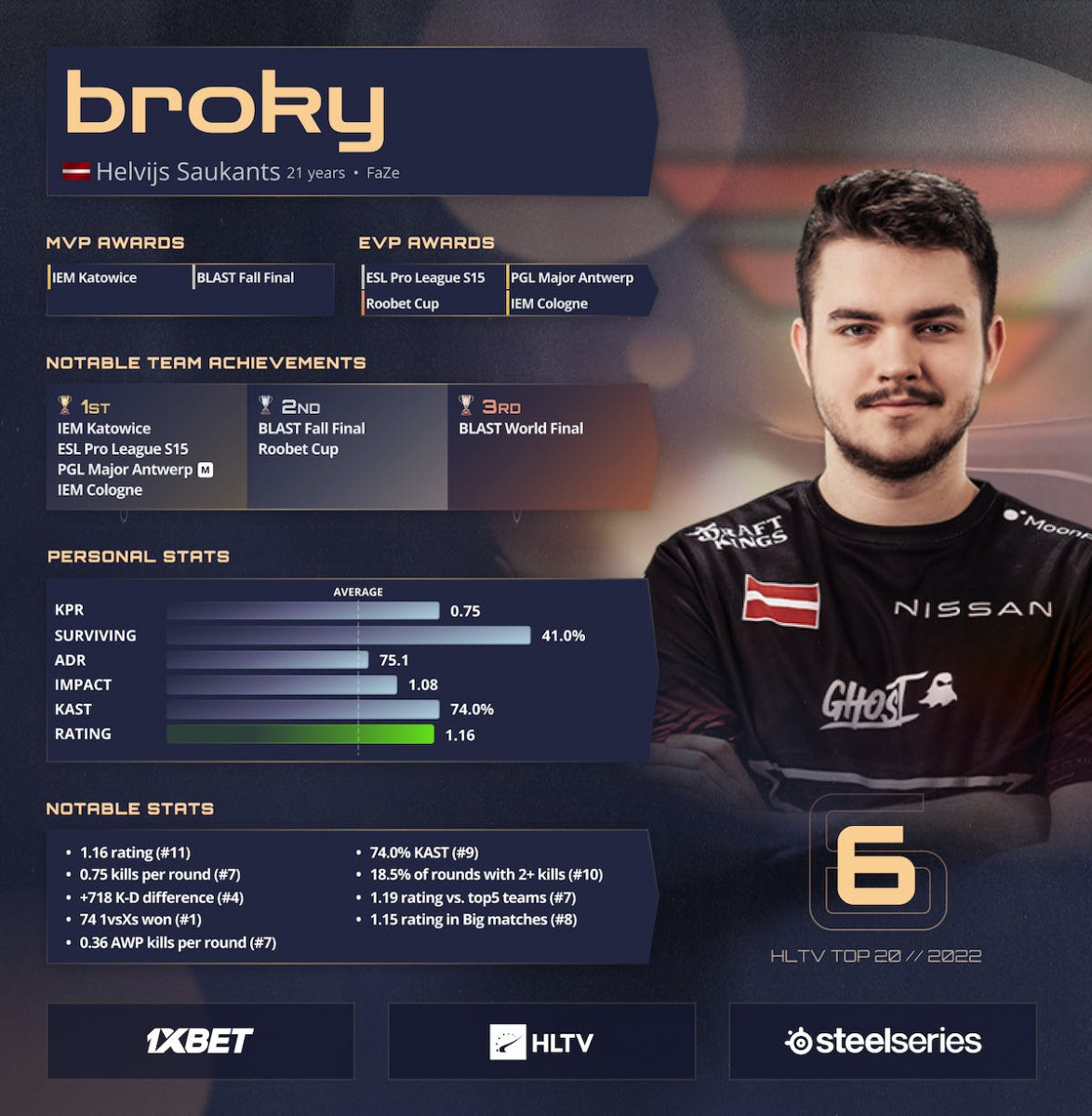 The list of the top 20 players of the past year will be published every day until January 14. The player coming in at fifth place will be revealed tomorrow, January 12, at 22:00 MSK.
---
The Top 20 players in the world in 2022 according to HLTV.org are as follows:
6.
Helvijs "⁠broky⁠" Saukants (FaZe)
7.
Ilya "m0NESY" Osipov (G2)
8.
Robin "ropz" Kool (FaZe)
9.
Kaike "KSCERATO" Cerato (FURIA)
10.
Martin "stavn" Lund (Heroic)
11.
Russel "Twistzz" Van Dulken (FaZe)
12.
Benjamin "blameF" Bremer (Astralis)
13.
Håvard "⁠rain⁠" Nygaard (FaZe)
14.
Nemanja "huNter-" Kovač (G2)
15.
Mareks "YEKINDAR" Galinskis (Liquid)
16.
Valeriy "b1t" Vakhovskiy (NAVI)
17.
David "⁠frozen⁠" Čerňanský (MOUZ)
18.
Lotan "Spinx" Giladi (Vitality)
19.
Yuri "yuurih" Santos (FURIA)
20.
Dzhami "Jame" Ali (Outsiders)
Origin: www.hltv.org