YEKINDAR ranks 15th in HLTV.org's Top 20 players of 2022
Mareks "YEKINDAR" Galinskis has taken fifteenth place in HLTV.org's list of the best players in the world in 2022. The Latvian began the year with the Virtus.pro roster, which later started competing under the Outsiders tag, and since June has represented Liquid.
The second half of the year was the most successful period for YEKINDAR, who, together with Liquid, took second place at ESL Pro League Season 16 and BLAST Premier World Final 2022, as well as 3-4th place at BLAST Premier Fall Final 2022. At all three of those tournaments, he was awarded the title of an exceptionally valuable player (EVP).
Galinskis ended the year with a 1.12 rating. HLTV.org journalists highlighted his aim accuracy (0.43 headshots on average per round) and success in opening duels (0.17 entry frags on average per round). In these respects, he is the leader among all the players who competed at the tier-1 level.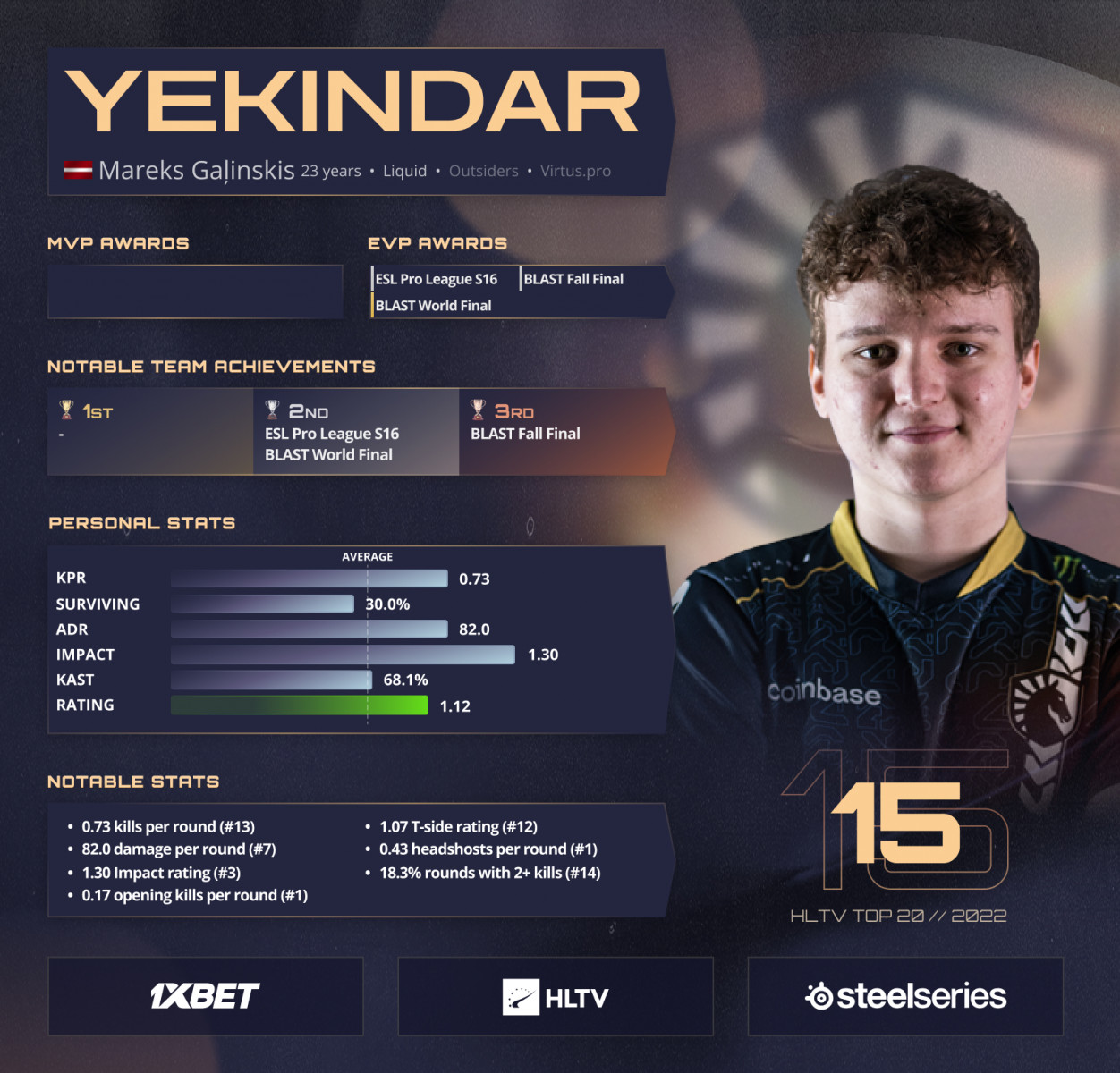 HLTV.org will be revealing the Top 20 best players of the past year one each day until January 14, 2023. The player coming in at fourteenth place will be announced tomorrow, January 3, at 18:00 MSK, while the esports athlete placing thirteenth will be known at 22:00 MSK the same day.
---
The top 20 best players in the world in 2022 according to HLTV.org are as follows:
15.
Mareks "YEKINDAR" Galinskis (Liquid)
16.
Valeriy "b1t" Vakhovskiy (NAVI)
17.
David "⁠frozen⁠" Čerňanský (MOUZ)
18.
Lotan "Spinx" Giladi (Vitality)
19.
Yuri "yuurih" Santos (FURIA)
20.
Dzhami "Jame" Ali (Outsiders)
Origin: www.hltv.org