frozen ranks 17th in HLTV.org's Top 20 players of 2022
HLTV.org has put David "⁠frozen⁠" Čerňanský in the seventeenth spot in their ranking of the top 20 players of 2022. Over the past twelve months, the esports athlete has represented MOUZ.
In 2022, Čerňanský, along with his team, was not able to win a single tournament, with the squad's best achievement being a 3-4th place finish at IEM Rio Major 2022. That said, the authors noted the Slovak's good performance at the Rio Major and ESL Pro League Season 16, which he finished as an exceptionally valuable player (EVP).
Last year, frozen averaged a 1.13 rating. Besides this factor, his making the top 20 is thanks to his ability to survive (0.58 deaths per round on average) and high KAST (74.5%), which reflects the percentage of rounds with a kill, assist, survival or trade.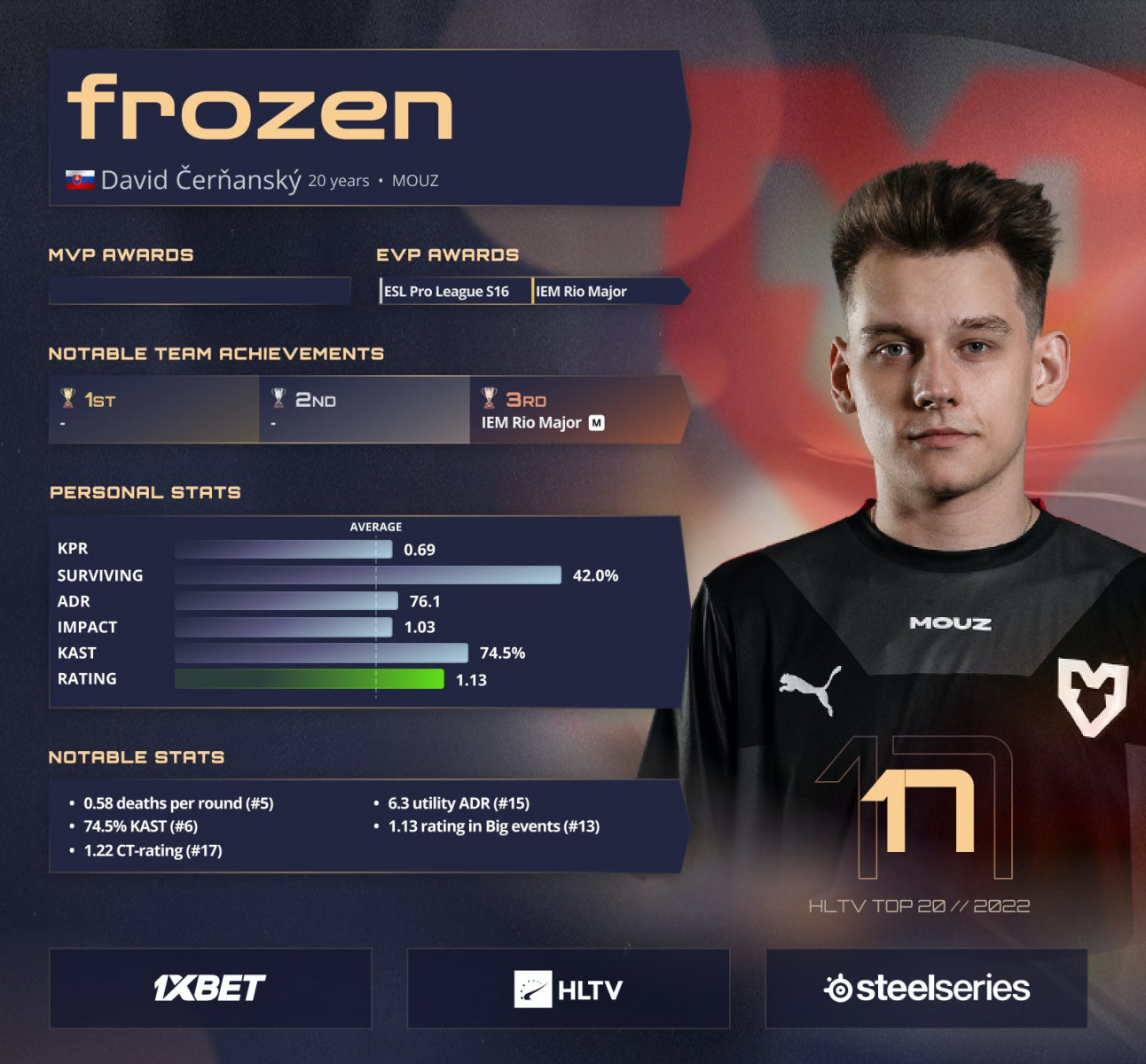 HLTV.org will be revealing the Top 20 best players of the past year one each day from January 1 to 14, 2022. The player coming in at sixteenth place will be announced tomorrow, January 3, at 18:00 MSK, while the esports athlete placing fifteenth will be known at 22:00 MSK the same day.
---
The Top 20 best players in the world in 2022 according to HLTV.org are as follows:
17.
David "⁠frozen⁠" Čerňanský (MOUZ)
18.
Lotan "Spinx" Giladi (Vitality)
19.
Yuri "yuurih" Santos (FURIA)
20.
Dzhami "Jame" Ali (Outsiders)
Origin: www.hltv.org