Jame ranks 20th in HLTV.org's Top 20 players of 2022
Outsiders' AWPer Dzhami "Jame" Ali has taken the 20th spot on the ranking of the best players of 2022. The list of the CS:GO pro scene's strongest representatives has begun to be published by HLTV.org.
Last year, the best achievement of the Russian was the victory at IEM Rio Major 2022. That said, he finished the Major as the most valuable player.
In 2022, Jame averaged a 1.12 rating. Noting the high level of his individual game, HLTV.org authors noticed that Ali survives more often than other players (0.52 deaths per round on average), and also ranks second in the world in terms of average AWP kills (0.42 frags per round).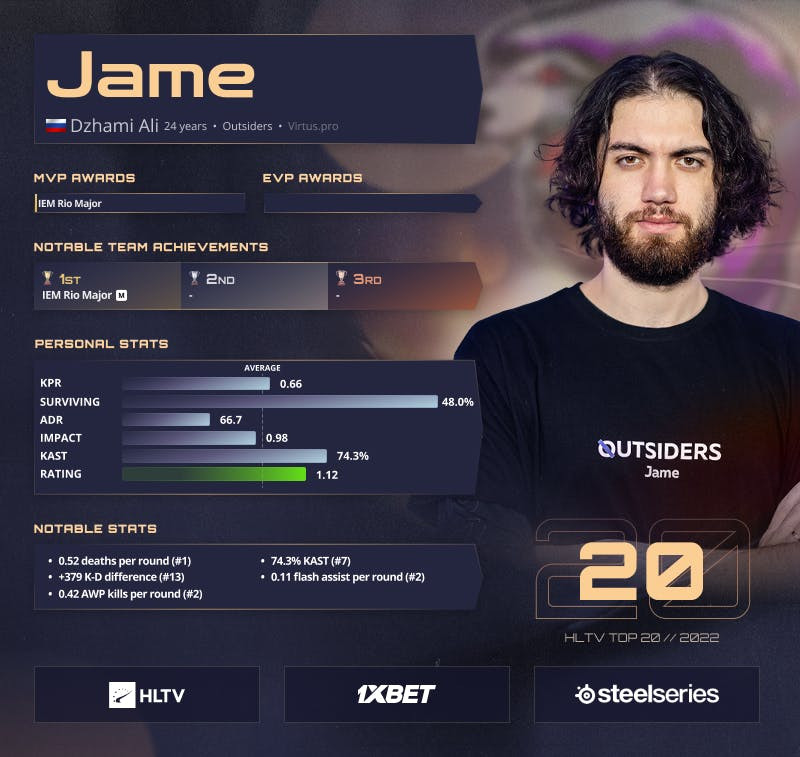 HLTV.org will be revealing the Top 20 best players of the past year daily from January 1 to 14, 2022. The nineteenth-place winner will be announced today, January 1, at 22:00 MSK.
Origin: www.hltv.org