PGL Major Antwerp 2022 viewer's guide
PGL Major Antwerp 2022 with $1 million of the prize money will take place from May 9-22 in the Antwerp, Belgium. Traditionally, the Major is divided into three stages: Challengers Stage, Legends Stage and Champions Stage.
The Challengers Stage (May 9-12) and the Legends Stage (May 14-17) will be held according to the Swiss system (16 teams compete in one group to make it into the top 8) with best-of-one matches, except for promotion or elimination encounters, which will be played in a best-of-three format. The teams that claim three victories in five rounds advance to the next stage.
The list of the Challengers Stage participants:
G2 (JACKZ, NiKo, huNter-, Aleksib, m0NESY)

ENCE (Snappi, Maden, dycha, hades, Spinx)


Bad News Eagles (rigoN, SENER1, juanflatroo, sinnopsyy, gxx-)

Team Spirit (chopper, degster, magixx, s1ren, Patsi)

Astralis (Xyp9x, gla1ve, k0nfig, Farlig, blameF)

Outsiders (buster, FL1T, Qikert, Jame, YEKINDAR)

forZe (Jerry, zorte, shalfey, KENSI, Norwi)

Eternal Fire (XANTARES, woxic, Calyx, imoRR, xfl0ud)

Vitality (apEX, dupreeh, Magisk, ZywOo, misutaaa)

MIBR (chelo, exit, WOOD7, Tuurtle, JOTA)

Imperial (fnx, FalleN, fer, boltz, VINI)

Renegades (Sico, Liazz, aliStair, INS, Hatz)

Complexity (JT, floppy, Grim, junior, FaNg)

IHC (kabal, nin9, sk0R, bLitz, Techno)

Liquid (shox, nitr0, NAF, EliGE, oSee)

9z (max, dgt, Luken, rox, dav1d)
The first Challengers Stage round seeding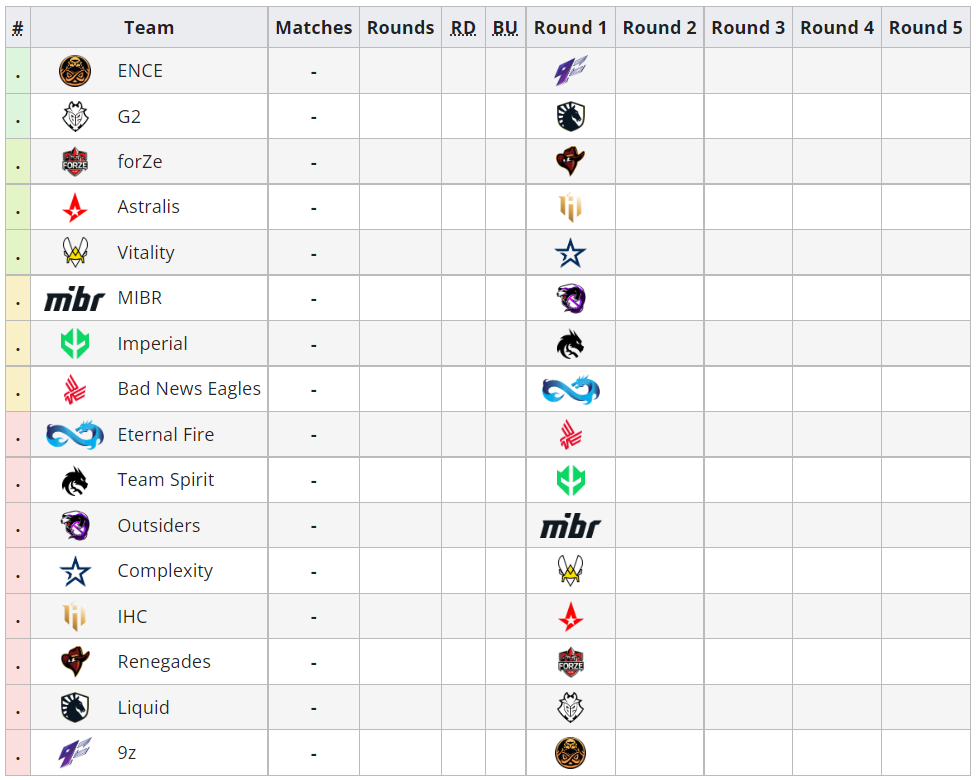 The Legends Stage invites:
NIP (es3tag, REZ, hampus, Brollan, Plopski)

Cloud9 (HObbit, interz, Ax1Le, sh1ro, nafany)

Copenhagen Flames (HooXi, nicoodoz, roeJ, jabbi, Zyphon)

NAVI (s1mple, electroNic, Boombl4, Perfecto, b1t)

Heroic (cadiaN, refrezh, stavn, TeSeS, sjuush)

BIG (tabseN, tiziaN, syrsoN, faveN, Krimbo)

FURIA (arT, yuurih, KSCERATO, saffee, drop)

FaZe (karrigan, rain, Twistzz, ropz, broky)
The eight best teams of the Legends Stage will face off on May 19-22 in a Single Elimination best-of-three bracket. All the matches will take place at the Antwerps Sportpaleis in front of a live audience.
The prize money distribution:
1. $500,000
2. $150,000
3-4. $70,000
5-8. $35,000
9-16. $8,750
The full schedule and live streams of PGL Major Antwerp 2022 matches are available on the event's page on our website via this link.