Liquid, Complexity and Imperial to show up at PGL Major Antwerp 2022
The fourth round of the Americas RMR tournament saw six matches playing out, three of which were the promotion meetings for the tickets to PGL Major Antwerp 2022. The battles for spots in the next Major ended as follows: Imperial defeated Party Astronauts (9:16 on Nuke, 16:11 on Dust2 and 16:12 on Inferno), Complexity took over Sao Caetano (16:5 on Inferno and Overpass), while Liquid came out on top of Evil Geniuses (16:9 on Vertigo and 16:10 on Inferno).
The three remaining matches determined the teams that had to finish their run at the tournament. Thus, 00NATION were eliminated after losing to 9z (11:16 on Mirage, 16:14 on Inferno and 16:10 on Overpass), TeamOne suffered a defeat to paiN (13:16 on Overpass and 10:16 on Nuke), while Isurus were sent packing by Case (8:16 on Mirage and 9:16 on Overpass).
Tomorrow, April 14, the fifth round of the Americas RMR will see three meetings of the squads going 2-2, following which three more rosters will play the additional matches for the remaining spot in the Major. The deciders will take place on April 15.
Tomorrow, MIBR and FURIA will face off to contest the title of the best team of the RMR event. The winner of this matchup will start the Major directly from the Legends Stage.
Current results: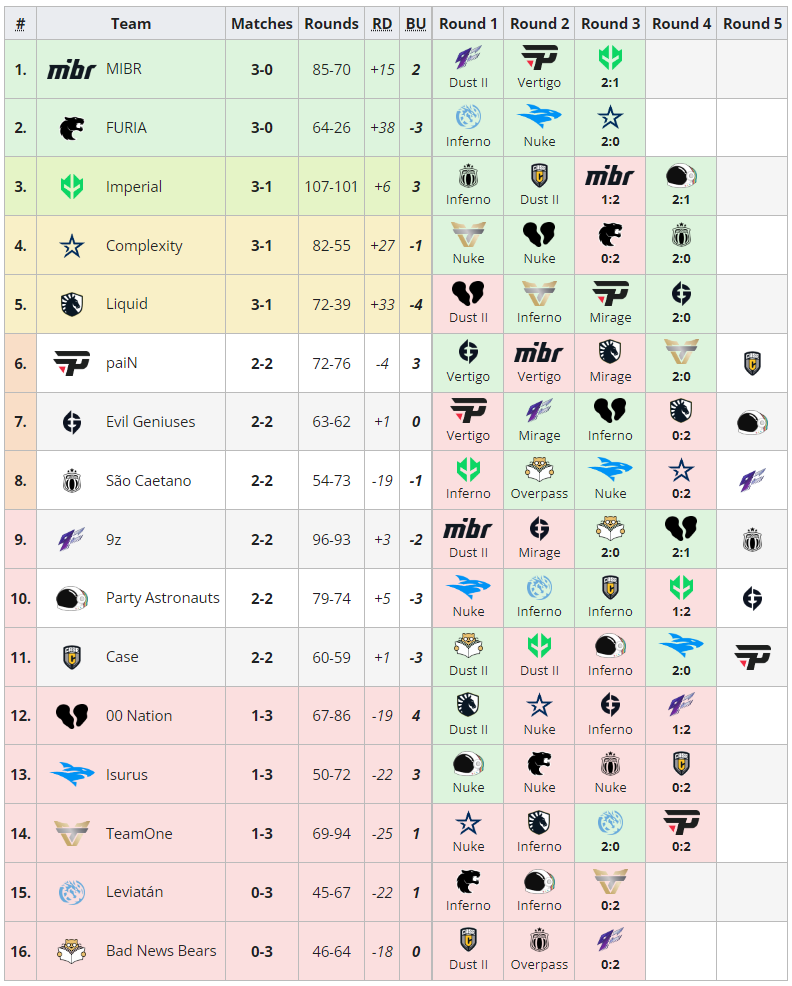 The full schedule, up-to-date results and live stream of PGL Major Antwerp 2022 Americas RMR matches are available on the event's page on our website via this link.