Ax1Le ranks 5th in HLTV's top 20 players of 2021
Russian Sergey "Ax1Le" Rykhtorov has become the fifth best player in the world in 2021 according to HLTV.org. Following Abay "HObbit" Khasenov, he became the second member of Gambit to be featured in the ranking.
Over the past year, Rykhtorov has helped his team win six tier-1 championships. Also, the 19-year-old was awarded two MVP medals and received seven exceptionally valuable player (EVP) titles.
Ax1Le ended 2021 with an average rating of 1.18. Among other things, HLTV.org drew attention to the fact that he had the exact same rating at big events.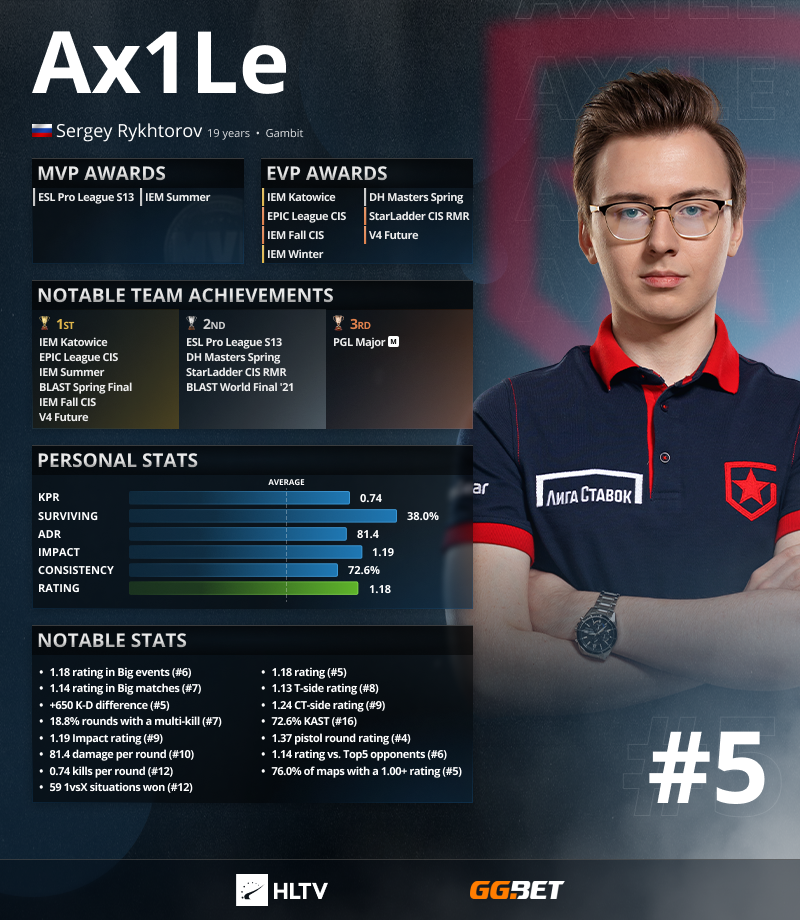 The list of the best players of the past year will be updated every day from January 3 to 22, 2022. Tomorrow, January 19, the authors will name the player to place 4th.
---
The top 20 best players in the world in 2021 according to HLTV.org:
5.
Sergey "Ax1Le" Rykhtorov
6.
Abay "HObbit⁠" Khasenov
7.
Denis "electroNic" Sharipov
8.
Mareks "YEKINDAR" Galinskis
9.
Valeriy "b1t" Vakhovskiy
10.
Dzhami "Jame" Ali
11.
Nikolai "device" Reedtz
12.
Nemanja "⁠huNter-⁠" Kovač
13.
Benjamin "⁠blameF⁠" Bremer
14.
Keith "NAF" Markovic
15.
Kaike "KSCERATO" Cerato
16.
Martin "stavn" Lund
17.
Russel "Twistzz" van Dulken
18.
Robin "ropz" Kool
19.
Jonathan "EliGE" Jablonowski
20.
Helvijs "broky" Saukants
Origin: www.hltv.org